10 year old synthetic (FAKE PLASTIC) slate roof failure replaced with natural North Country Unfading Black roofing slate which will last 100 years!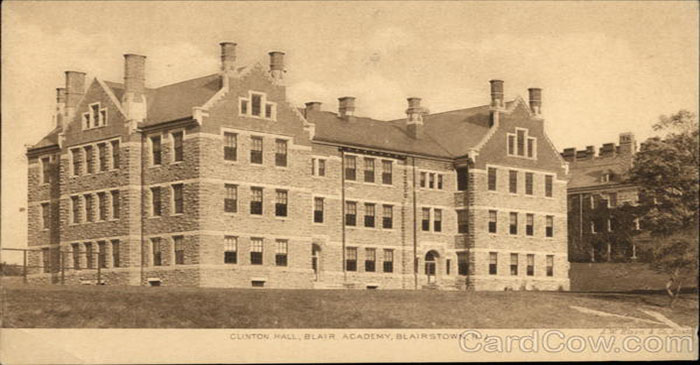 Blair Academy, established in 1848 is a private, coeducational, boarding and day school for highschool students (grades 9-12) in Blairstown, NJ.
Clinton Hall, built in 1900 by architect Addison Hutton is a classic Jacobethan Revival style building with slate covered H-shaped gables with two front-gable dormers.
After the 10 year old synthetic slate roofing product  failed to protect Clinton Hall, Blair Academy decided to hire a reputable company to install a new natural slate roof.  In June 2018, the Fania Roofing Company purchased our North Country Unfading Black, 20″ x 12″ x 1/4″ (126.5 squares).
Backed by North Country Slate's Warranty, the Unfading Black slate produced in Quebec, Canada has been supplied to Harvard, Radcliffe, Brown, Cornell, Cushing Academy, Worcester Academy, Smith College, U mass, University of Vermont, University of Toronto, McGill, Queens and Yale to name a few. It has also been the slate of choice for numerous Courthouses across North America such as Gloucester (Woodbury, NJ), Fayette County (La Grange, TX) and Pulaski County (Little Rock, AR).
North Country Unfading Black slates are available in 3/16″ (700 lbs/square), 1/4″ (900 lbs/square), 3/8″ (1400 lbs/square) and Medium Texture 1/4″-3/8″ (1100 lbs/square).  These slates meet the requirements of ASTM C406 S-1 rated roofing slate with a proven lifespan over 100 years.
Natural roofing slates unlike fake synthetic slates are maintenance free, durable, long lasting, resistant to chemical pollutants, noncombustible, fireproof, unaffected by freeze/thaw cycles, environmentally safe, resistant to hail, proven performance on rooftops , slates can be ordered special trimmed on request. 
For more information on the project, check out Fania Roofing Company's recent Blog.
Sheena Owen
Sheena Owen began working for North Country Slate on October 12, 1999. As the Sales Coordinator, Sheena's day to day duties include providing customer service, new business development, inside sales, handling all cross-border customs issues/documentation, arranging shipments, health and safety representation and social media marketing.
Sheena graduated from the University of Guelph in 1992 with a BA in English and Drama and in 1995 graduated with a Diploma in Radio and Television Broadcasting from Centennial College. Sheena's first job was the Producer's Assistant for TV shows including Robocop, F/X The Series and Nikita. She went on to becoming an Assistant Manager at Eddie Bauer. In her spare time, Sheena enjoys traveling, gardening, volunteering at her local soccer club and cheering on her kids at their sporting events.