North Country Unfading Black slate roof shingles and Pipe Style snow guard system installed on the East Greenwich Town Hall re-roof restoration project.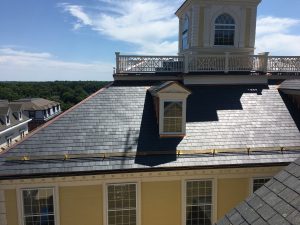 Formerly the Kent County Courthouse, which was originally constructed in 1804 was repurposed as the East Greenwich Town Hall in 1974. Located at 125 Main Street, the yellow and white Colonial Revival style building, is one of the largest on the street.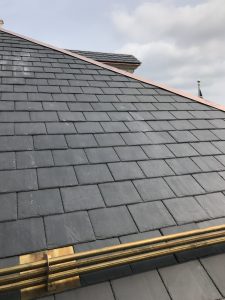 In April 2019, we supplied 50 squares of our North Country Unfading Black, 18" x 9" x ¼" smooth textured roofing slate for the East Greenwich Town Hall slate roof restoration project. Thanks to a State Preservation Grant administered by Rhode Island Historical Preservation and Heritage Commission helped cover the costs of the new slate roof material and installation. Although replacing a slate roof can be a major expense upfront, the new slates will last over 100 years which is more than double the longevity of other roofing materials.
A three-pipe snow guard system also referred to as snow fence or snow rail, was installed on the East Greenwich Town Hall to prevent snow and ice from sliding off the roof damaging property and injuring people. Although the snow guard systems can look fairly simple, they require proper engineering based on snow fall, roof slope and roof size. A pipe/rail system are more common on steep sloped roofs.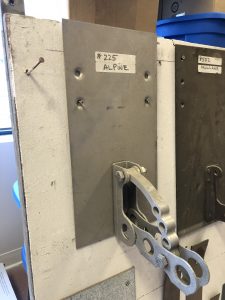 When ordering a snow rail system, it will include a base plate, end collars, pipe and couplings. The base plate should be ordered the same size as the field slate.  Like the nail holes on the slate, the base plates have counter sunk holes so the screws sit flush, allowing the slate above to sit flat.
4 Benefits to installing a snow guard system:
Protects pedestrians
Reduces and limits liability
Protects landscaping, entry ways and vehicles
Reduces maintenance costs such as damage to gutters, roof vents, trim, fascia, signage, skylights and light fixtures.
As part of your yearly slate roof inspection examining the snow guards should be included. This includes, inspecting the tubing isn't damaged or bent as well as the fasteners.
For more information on snow guard systems, please call us at Toll Free 1-800-975-2835.
Sheena Owen
Sheena Owen began working for North Country Slate on October 12, 1999. As the Sales Coordinator, Sheena's day to day duties include providing customer service, new business development, inside sales, handling all cross-border customs issues/documentation, arranging shipments, health and safety representation and social media marketing.
Sheena graduated from the University of Guelph in 1992 with a BA in English and Drama and in 1995 graduated with a Diploma in Radio and Television Broadcasting from Centennial College. Sheena's first job was the Producer's Assistant for TV shows including Robocop, F/X The Series and Nikita. She went on to becoming an Assistant Manager at Eddie Bauer. In her spare time, Sheena enjoys traveling, gardening, volunteering at her local soccer club and cheering on her kids at their sporting events.