North Country Unfading Black, 20″ x random width x 1/4″
Located in Columbus, Indiana, the North Christian Church was one of the last buildings designed by famous Finnish architect, Eero Saarinen.
Saarinen wanted to create a modern, contemporary church but also felt it was important to keep the interior design as a traditional place of worship. His final design was an impressive hexagonal building with a 192 foot central metal spire.
The first worship was held in the church on March 9, 1964 and on May 16, 2000 was designated a National Historic Landmark of Indiana.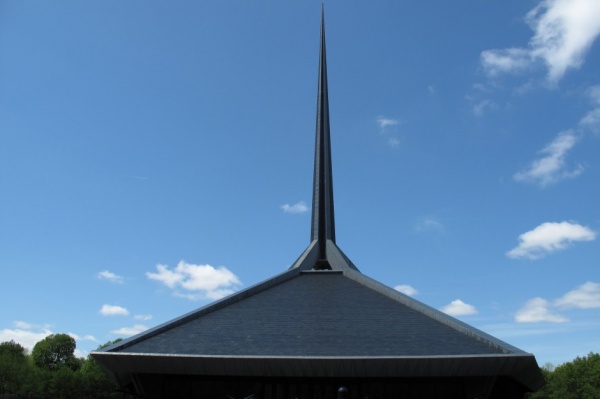 In 2008, the slate roof was replaced. We supplied 220 squares of our North Country Unfading Black, 20" x random width x ¼" (154 squares of 20" x 12" x ¼", 22 squares of 20" x 11" x ¼", 22 squares of 20" x 10" x ¼" and 22 squares of 20" x 9" x ¼").
Sheena Owen
Sheena Owen began working for North Country Slate on October 12, 1999. As the Sales Coordinator, Sheena's day to day duties include providing customer service, new business development, inside sales, handling all cross-border customs issues/documentation, arranging shipments, health and safety representation and social media marketing. Sheena graduated from the
University of Guelph
in 1992 with a BA in English and Drama and in 1995 graduated with a Diploma in Radio and Television Broadcasting from
Centennial College
. Sheena's first job was the Producer's Assistant for TV shows including Robocop, F/X The Series and Nikita. She went on to becoming an Assistant Manager at Eddie Bauer. In her spare time, Sheena enjoys traveling, gardening, volunteering at her local soccer club and cheering on her kids at their sporting events.