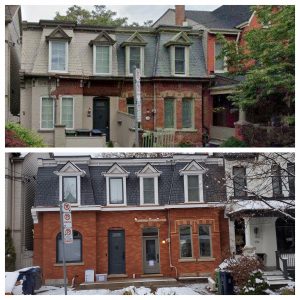 Nice to see the neighbors of this Toronto Semi-Detached home were on the same page when they decided to restore their homes. Years ago, the owners painted the brick and slate, which over time was peeling off and looking dated. The decision to replace with a new slate roof will provide these owners with peace of mind that their roof will last 100 years!
In 2021, a restoration company was hired to remove the paint and a new mansard slate roof was installed. North Country Unfading Black slate (16″ x 8″ x 1/4″) was a perfect choice against the red brick providing a classic look and adding to the curb appeal. For this particular mansard roof, 540 pieces of slate were hand trimmed for the pattern. 
Some of the benefits of a slate roof are; maintenance free, durable, non combustible/fireproof, environmentally safe and special trimming available.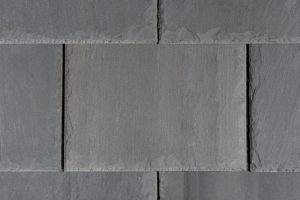 The North Country Unfading Black is quarried in Quebec, Canada.  A premium quality roofing slate which has been popular not only for new construction but also restoration projects such as this semi-detached.  Over the years, it has earned the admiration of architects, contractors and homeowners around the world.
For more North Country Unfading Black project references in your area, please call us at Toll Free 1-800-975-2835 or info@ncslate.com