Whether you are a 2nd generation slate roofer (aka 'slater') or just getting started on a roof repair or replacement project, this page will help set you up for success! Slate roofs have been installed all over the world for centuries. Simply stated they are the best and most beautiful. A natural slate roof is the most cost-efficient roofing material when amortized over its life expectancy.
We are dedicated to making sure that your new or existing slate roof lives up to its promise.
Looking for a slate roofing contractor?

We work with the top "slaters" to ensure quality installation from slate roofing repairs, restoration or new construction.

What sizes of roofing slate are available?

The standard sizes for roofing slate start at 12″ in length and increase by 2-inch increments up to 24″ in length.

How much does a slate roof cost? We are often...

On average, North American produced S-1 rated roofing slate will cost $400 – $600 USD per square (100 square feet) or $4.00 to $6.

What minimum roof pitch is required in order to...

With special consideration for slate size, headlap and underlayment – natural roofing slate can be applied to roofs with a slope of four inches per...

What roof decking is required for the application...

One inch board sheathing or 3/4″ APA plywood provides a suitable deck material for the installation of natural slate.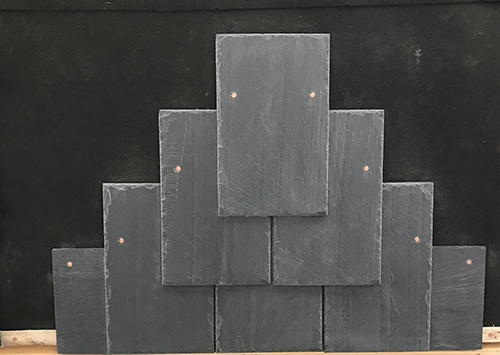 Starter course slates are installed horizontally (long sides parallel to the eave) with the bevel edge down.
Starter Length:  Field slate exposure plus headlap, rounded up to the nearest inch
Starter Width:  Double the field slate width