North Country Unfading Black, 20″ x random width x 1/4″
Located in Columbus, Indiana, the North Christian Church was one of the last buildings designed by famous Finnish architect, Eero Saarinen.
Saarinen wanted to create a modern, contemporary church but also felt it was important to keep the interior design as a traditional place of worship. His final design was an impressive hexagonal building with a 192 foot central metal spire.
The first worship was held in the church on March 9, 1964 and on May 16, 2000 was designated a National Historic Landmark of Indiana.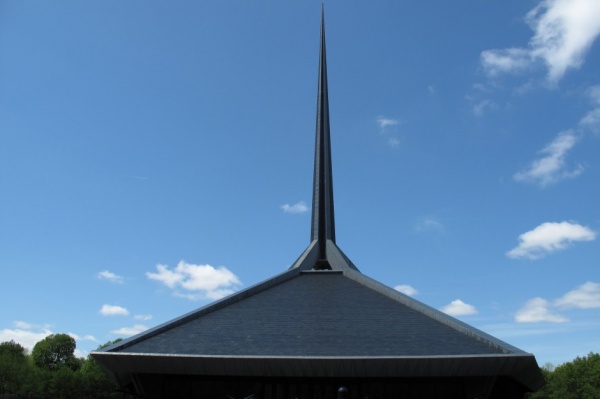 In 2008, the slate roof was replaced. We supplied 220 squares of our North Country Unfading Black, 20" x random width x ¼" (154 squares of 20" x 12" x ¼", 22 squares of 20" x 11" x ¼", 22 squares of 20" x 10" x ¼" and 22 squares of 20" x 9" x ¼").
Sheena Owen
Sheena Owen began working for North Country Slate on October 12, 1999. Started as the Sales Coordinator and transitioned to a Sales Representative. Daily duties include providing customer service, new business development, inside sales, handling all cross-border customs issues/documentation, arranging shipments, health and safety representation and social media marketing. Sheena graduated from the
University of Guelph
in 1992 with a BA in English and Drama and in 1995 graduated with a Diploma in Radio and Television Broadcasting from
Centennial College
. In her spare time, Sheena enjoys traveling, gardening and hikes with family and friends.