Northern Illinois University in Dekalb, Illinois was founded in 1895.  The campus sits on 756 acres and includes 64 major buildings.  The Still Gym, built in 1926 is among one of the first built on campus.  Originally a gymnasium from 1928-1957, now serves as the College of Engineering building.  North Country Slate has been providing natural roofing slate in the great State of Illinois for decades in both the restoration and new construction markets. We were proud to have our North Country Unfading Black slate (18" x 9" x ¼") selected for the Still Gym re-roof which will provide a service life of 100 plus years.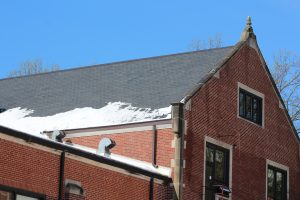 North Country Unfading Black slate, produced in Quebec, Canada has proven to be a beautiful and durable product. Able to withstand the Northern Illinois extreme weather from hot, humid summers to cool, cold winters and vulnerable to tornadoes, hail and snow storms. Roofing installers enjoy working with this premium quality roofing slate because of the smooth texture, rich black color and consistent thickness.
Sheena Owen
Sheena Owen began working for North Country Slate on October 12, 1999. Started as the Sales Coordinator and transitioned to a Sales Representative. Daily duties include providing customer service, new business development, inside sales, handling all cross-border customs issues/documentation, arranging shipments, health and safety representation and social media marketing. Sheena graduated from the
University of Guelph
in 1992 with a BA in English and Drama and in 1995 graduated with a Diploma in Radio and Television Broadcasting from
Centennial College
. In her spare time, Sheena enjoys traveling, gardening and hikes with family and friends.