Investing in a natural slate roof is a big financial commitment and one you will have to live with for many years as an ASTM S-1 rated slate roof offers superior durability and can last over 100 years!  When it comes time to selecting a color(s), an architect or homeowner may ask their roofing contractor for a mockup board which offers a better representation of the product's appearance and shows the range of color variations within a pallet.  The mockup board allows for modifications before products are ordered.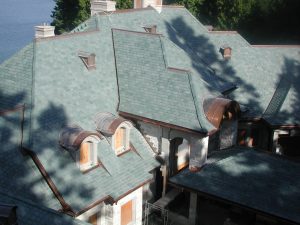 When looking at your mockup board you will see that no two pieces will be the same as there can be a subtle variation in the veining, shade and color which offers a truly unique roof. A natural slate's color is derived from its mineral and chemical composition.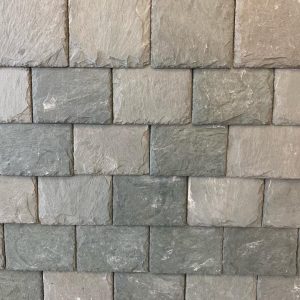 This North Country Unfading Green  (Vermont) mockup board shows a blend of green slates from grey/green to brighter shades of green.  Unfading Green is one of the most popular slate roof tiles, as it can be used alone or as one of the blended colors used on multicolored roofs. This versatile green slate roof is often specified in random widths to provide additional accent to its beauty.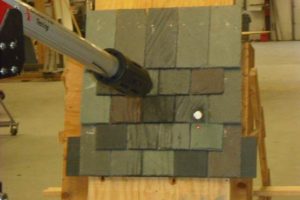 In addition to providing a design evaluation, mockup boards are also used by architectural testing labs to examine the performance of a natural slate roof.  Slate has been tested for hail damage as well as fire and wind resistance ratings.  In addition, the North Country Unfading Green slate was tested in March 2018 to determine the solar reflectance, thermal emittance, and solar reflectance index value. At the time of testing this color met the standard and Title 24 in California for medium and high wind conditions.
North Country Unfading Green slate is produced by a select Vermont quarry and meets or exceeds the requirements of ASTM as an S-1 rated roofing slate.  Vermont roofing slate has been quarried since the 1840s and the slate belt straddles the Vermont/New York state border.
Sheena Owen
Sheena Owen began working for North Country Slate on October 12, 1999. Started as the Sales Coordinator and transitioned to a Sales Representative. Daily duties include providing customer service, new business development, inside sales, handling all cross-border customs issues/documentation, arranging shipments, health and safety representation and social media marketing. Sheena graduated from the
University of Guelph
in 1992 with a BA in English and Drama and in 1995 graduated with a Diploma in Radio and Television Broadcasting from
Centennial College
. In her spare time, Sheena enjoys traveling, gardening and hikes with family and friends.