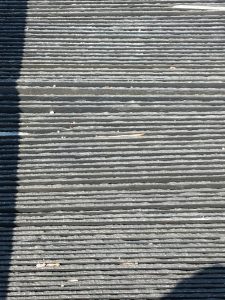 The most common thickness is ¼" and weighs approximately 935 pounds per square when installed with a 3" headlap.  Some quarries such as Glendyne, which produces our North Country Unfading Black slate can be split consistently and sold 3/16", ¼", 3/8" and ½".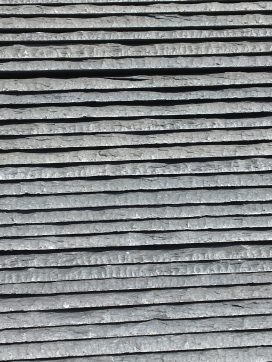 When selecting a slate thickness, there are a few things you should consider such as the weight per square.  A 3/16" thick slate weighs approximately 700 pounds per square whereas a ½" thick slate weighs approximately 1870 pounds per square.  Thicker slates are also more expensive and have more texture to the face of the slate.
When ordering the various slate thicknesses a 3/16" is called "Standards", ¼" is "quarters", 3/8" is "Heavies" and ½" is "extra heavies.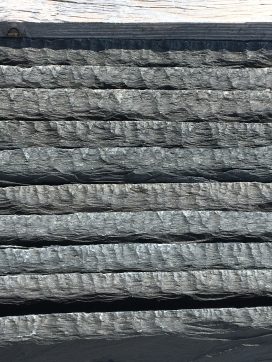 When a roof has several slate thicknesses installed, this is called a graduated slate roof.  The thicker slates are installed at the eave and the thinner slates at the ridge.
Slate roof design and installation information for architects is available on our website, or feel free to call our office at Toll Free 1-800-975-2835.
Sheena Owen
Sheena Owen began working for North Country Slate on October 12, 1999. Started as the Sales Coordinator and transitioned to a Sales Representative. Daily duties include providing customer service, new business development, inside sales, handling all cross-border customs issues/documentation, arranging shipments, health and safety representation and social media marketing. Sheena graduated from the
University of Guelph
in 1992 with a BA in English and Drama and in 1995 graduated with a Diploma in Radio and Television Broadcasting from
Centennial College
. In her spare time, Sheena enjoys traveling, gardening and hikes with family and friends.