Perhaps you've just purchased your dream home built in the 1900's, visited Europe and fell in love with a chateau, attended a university with a slate roof or you plan on building your custom dream home.  Your home is your biggest personal investment and including a slate roof is a big consideration.  When looking at the cost, consider the long history of slate as a roofing material and reputation to last and protect your home for over a century.  As you continue to read about all the benefits a slate roof has to offer, I hope the information will help strengthen your confidence and decision to invest in a lifetime natural slate roof.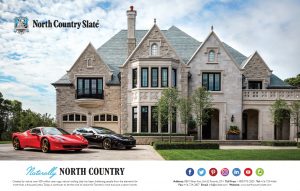 When I started working at North Country Slate in 1999, a natural slate roof was described to me as the "Rolls Royce of All Roofs", "The 100-year-Old Roof" and "The Forever Roof". I began to pay attention to the different types of roofs on the market; asphalt, metal, cedar, fake slate, clay tiles and natural slate. Looking at the homes and buildings I started to think of the decision process the owners made and the type of roof that best suited the building. From time to time, I have heard a homeowner ask me "I'm not going to be around for a hundred years, why would I want to invest money in a slate roof?". Once they have had a chance to do their research and form an educated decision, why wouldn't you want to build a home or preserve one to last another century so future generations can enjoy it.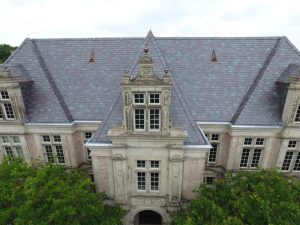 Investing in a slate roof adds value to your home, the beauty with the various colors enhances curb appeal, the proven longevity means you can keep the home in the family for multi generations.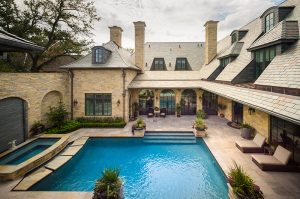 For those with an environmental conscience, because a slate roof may outlast the building, it can be re-purposed and doesn't have to be replaced every 20 years filling up landfills like an asphalt or synthetic slate roof which minimizes the carbon footprint.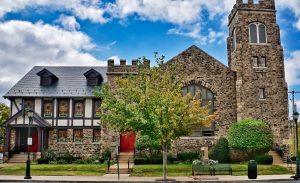 A reputable slate supplier will also have their slates tested regularly to ensure the slates pass the ASTM C121 for water absorption. Slate is resilient against freeze/thaw cycles, snow, rain and high winds.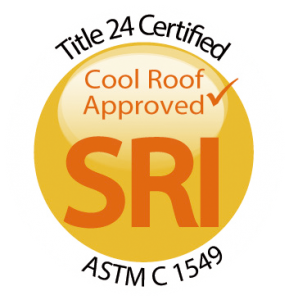 In areas such as California who have seen their unfortunate share of forest fires, two of the benefits of slates are they are fireproof and certain colors have met the requirements of an SRI Cool Roof under Title 24.  Natural slate received IBC Class A (highest fire rating available) Fire Resistance Rating when 1/4" thick, North American slate shingles were installed at a 3" headlap over No. 30 felt underlayment on a 1/2″ plywood roof deck. In March 2018, our North Country Unfading Green slate was tested to determine the solar reflectance, thermal emittance, and solar reflectance index value. At the time of testing this color met the standard and Title 24 for medium and high wind conditions.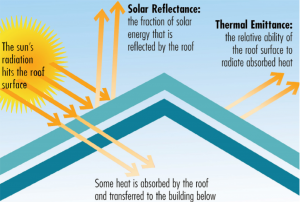 In Hail Alley, it is important to note that some insurance companies offer a reduction in residential insurance premiums when a Class 3 or Class 4 rating is met. A 3/8" thick, S-1 rated, North American produced roofing slate met Class 4 requirements, surviving the impact of 2" ice balls travelling at 76 MPH.  A 1/4″ thick, S-1 rated, North American produced roofing slate met Class 3 requirements, surviving the impact of 1 3/4″ ice balls travelling at 69 MPH. A copy of the hail test report can be found on our website.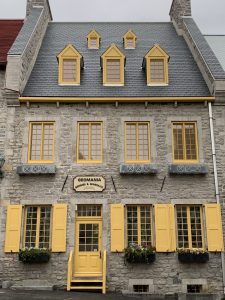 Many historic buildings and custom homes have chosen slate because of the variety of colors, sizes and thickness available. Natural slates can easily be trimmed into aesthetically pleasing shapes for a patterned roof. The roof can be a single color or a combination of several colors. Because slate is a natural product, each piece is different thus creating a truly one of a kind roof!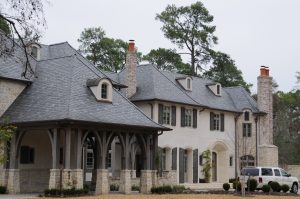 The decision to grace your home with a natural slate roof is one that you will be thankful for, many years in the future. When you look up at your roof years from now and see it still performing and looking as great as it did when it was installed, you will be proud of your decision to invest in a roof that will last a century!
Sheena Owen
Sheena Owen began working for North Country Slate on October 12, 1999. Started as the Sales Coordinator and transitioned to a Sales Representative. Daily duties include providing customer service, new business development, inside sales, handling all cross-border customs issues/documentation, arranging shipments, health and safety representation and social media marketing. Sheena graduated from the
University of Guelph
in 1992 with a BA in English and Drama and in 1995 graduated with a Diploma in Radio and Television Broadcasting from
Centennial College
. In her spare time, Sheena enjoys traveling, gardening and hikes with family and friends.