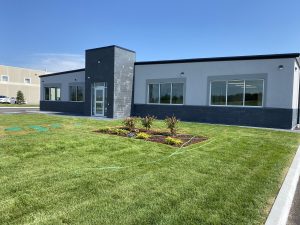 Over the past 30 years, we have been lucky to see North Country Slate continue to grow, not only in sales but our team is now 8!  As we were outgrowing our place in Scarborough it was time for us to find a new place to call home.  Dave Large was tasked with the job to find a new location which would accommodate a sales office, warehouse and slate yard.  While taking into consideration everyone's commute to the new place the perfect location was found in Uxbridge, Ontario. Dave immediately went to work to bring his long-time vision to life applying pencil to paper and mapping out what has become our new home.  Construction began in 2020 and we moved into the new office on July 5, 2021.  Next task was moving our slate inventory from Scarborough to Uxbridge for a total of 27 truckloads!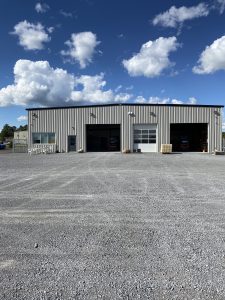 Starting with our tour, for the front of the office building we installed unfading black slate cladding and slate pavers from the Glendyne quarry that produces our North Country Unfading Black roofing slate.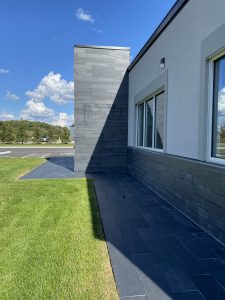 Slate pavers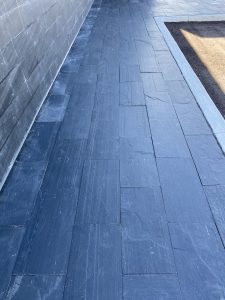 As you walk thru the front door, we have installed unfading green slate flooring from Vermont.
View of the office side.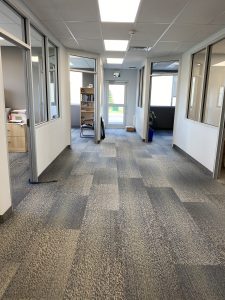 View from the office towards the kitchen and showroom.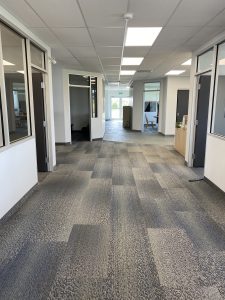 Check out our gorgeous slate kitchen countertop and backsplash which is unfading mottled purple and green from Vermont.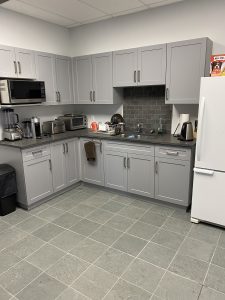 Since we have much more space, we now have a dedicated showroom which is comprised of various mini mock-up boards so customers have a better sense of the color comparisons.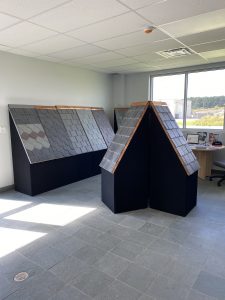 A nice added feature is our employee gym!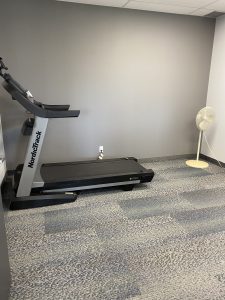 Our warehouse is equipped with a sample room, an area for trimming, punching and preparing orders.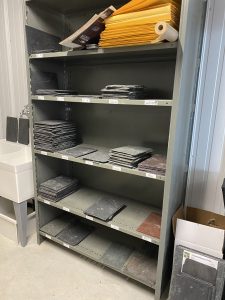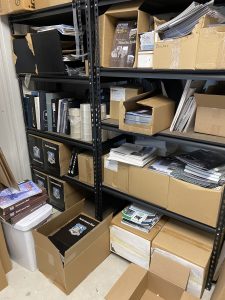 We were also lucky to buy a new forklift.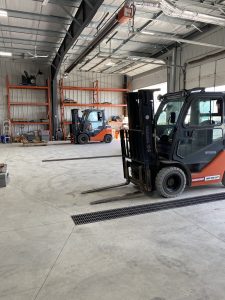 Our trimming, punching and sorting area.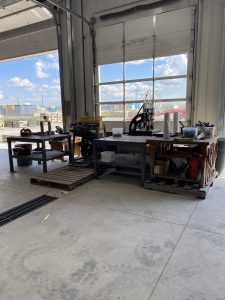 Our tools, nails and snow guards section of warehouse.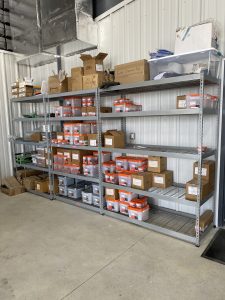 The slate yard is organized by color (North Country Unfading Gray, North Country Semi-Weathering Vermont Black, North Country Unfading Green…….etc).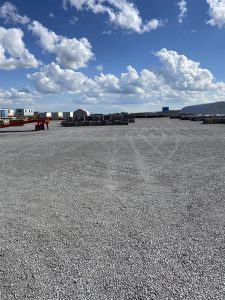 Our boardroom and check out the view!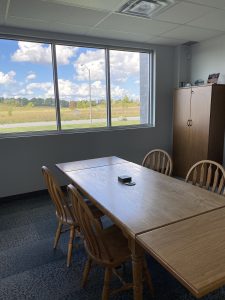 We consider our new office as the beginning of another chapter in our company's history. Thanks for being with us throughout this growth!
If you are in the area, feel free to stop by and say hello!
Sheena Owen
Sheena Owen began working for North Country Slate on October 12, 1999. Started as the Sales Coordinator and transitioned to a Sales Representative. Daily duties include providing customer service, new business development, inside sales, handling all cross-border customs issues/documentation, arranging shipments, health and safety representation and social media marketing. Sheena graduated from the
University of Guelph
in 1992 with a BA in English and Drama and in 1995 graduated with a Diploma in Radio and Television Broadcasting from
Centennial College
. In her spare time, Sheena enjoys traveling, gardening and hikes with family and friends.