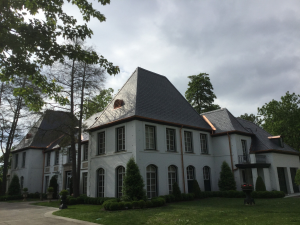 During a honeymoon trip to Paris, France, Edgar and Aline Igleheart, were enchanted with the architecture of French Chateaus. Upon arriving home to Evansville, IN they hired local architect Edward Joseph Thole to design their own French style chateau home. The Igleheart Chateau and Estate was completed in 1932.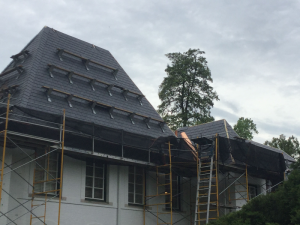 In 2019, we supplied our North Country Unfading Black, 18" x 10" x ¼" for the reroof. Installed by Renaissance Roofing, the installation details include, open copper valleys, copper snow guards, round copper dormers, swept eave and saddle hips.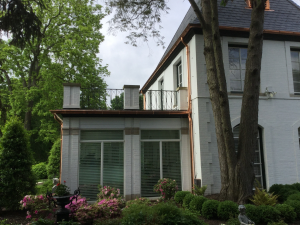 In 2020, the property will open as the Igleheart Gardens Arboretum and Bird Sanctuary, offering the public a place to enjoy the glorious trees and gardens.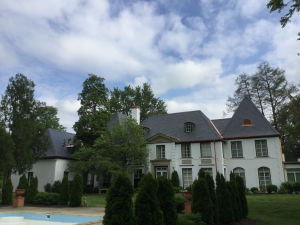 One of the beautiful features of the Igleheart Chateau is the saddle hipped slate roof. Hip roofs can be; fantail, Boston, mitered and saddle depending on the homeowner's desired style and appearance.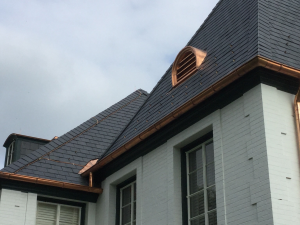 Hips are not only a nice installation detail; they also have a purpose, to keep rainwater out!  A saddle hipped roof will require planning as each piece is trimmed, measured and adjusted to make sure it lays flat and straight.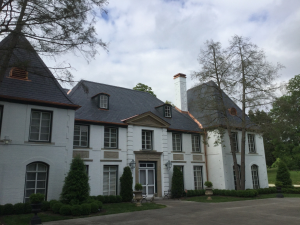 When ordering slate, your roofer may trim down field slates for the hip and ridge slates, while others will order unpunched slate, quantity based on the linear feet required.  Ordering unpunched hip and ridge slates allows the roofer to custom punch the nail holes.
The size of slate for hip and ridge slates are based on the field slate size
Saddle Hip or Ridge Slate Size

Field Slate

Length

Hip & Ridge

Slate Size

Hip & Ridge

Exposure

Pieces Per

Linear Foot

12"
12" x 6"
6"
4
14"
12" x 6"
6"
4
16"
14" x 7"
7"
3.43
18"
16" x 8"
8"
3
20"
18" x 9"
9"
2.67
22"
20" x 10"
10"
2.4
24"
22" x 11"
11"
2.18
Note: Hip & Ridge Slates are Supplied Unpunched for Punching By Installer at Time of Installation. This formula covers both sides of the Hip and Ridge.
Sheena Owen
Sheena Owen began working for North Country Slate on October 12, 1999. Started as the Sales Coordinator and transitioned to a Sales Representative. Daily duties include providing customer service, new business development, inside sales, handling all cross-border customs issues/documentation, arranging shipments, health and safety representation and social media marketing. Sheena graduated from the
University of Guelph
in 1992 with a BA in English and Drama and in 1995 graduated with a Diploma in Radio and Television Broadcasting from
Centennial College
. In her spare time, Sheena enjoys traveling, gardening and hikes with family and friends.