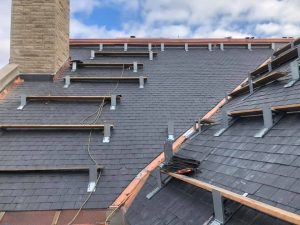 How much does slate weigh?  That's a great question, especially when you are comparing it against other roofing products.  Roofing slate created by nature over 500 million years ago has been used as a roof covering for more than a thousand years!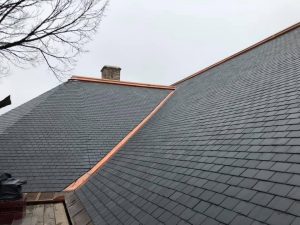 Back in 1926, the commercial standard slate thickness was 3/16". In the 1950's the ASTM changed slate's nominal thickness to 3/16" – ¼". Today, the standard thickness of slate is ¼" – 3/8".  A slate's thickness depends on the quarry's stone characteristics which can change from bed to bed. The North Country Unfading Blackhttps://www.ncslate.com/products/slate-colors/unfading-black/ natural roofing slate can be split consistent 3/16", ¼" or 3/8" depending on the slate specification.
SLATE THICKNESS AND WEIGHT CHART

THICKNESS

WEIGHT POUNDS PER SQUARE

BASED ON A 3" HEADLAP

3/16"
675-700 LBS
3/16" – ¼"
820 LBS
¼"
935 LBS
¼" – 3/8"
1170 LBS
3/8"
1405 LBS
½"
1870 LBS
When ordering a slate's thickness, considering the weight should be top priority.  Not only for the building's structural integrity, but shipping costs, labour/installation costs and lead-times will play a big factor.  Some markets, such as California and Texas, prefer a lighter weight slate roof.  While some of the more traditional slate markets such as Illinois, New York, Pennsylvania and Massachusetts prefer a heavier 3/8" slate product.
In the Fall of 2018, we supplied 122 squares of our North Country Unfading Black slate (16"L x 8"W x 3/16") for the First United Methodist of Oak Park's reroof. The original church was destroyed by fire in 1916 when lightning struck the church. The church was rebuilt in 1918 with stones salvaged from old building. The original slate roof was likely an old Pennsylvania black slate roof which was split to 3/16" back in 1916.  Our North Country Unfading Black slate was a great match in color, texture and thickness.  Current ASTM test results were submitted and the results indicated all test methods meet the S1 classification as per ASTM C406 providing a service life of 75 + years.
Some of our 3/16" light weight slate projects include; Golden Gate Park Murphy's Windmill in San Francisco, CA; University of Illinois' Farm House Fraternity; Perth County Courthouse in Stratford, ON; Grace Anglican Church in Milton, ON and St. Anne's Anglican Church in Toronto, ON.
For more information on slate coverage and weights and how much a pallet of slate weighs, please call our office at Toll Free 1-800-975-2835.
Sheena Owen
Sheena Owen began working for North Country Slate on October 12, 1999. Started as the Sales Coordinator and transitioned to a Sales Representative. Daily duties include providing customer service, new business development, inside sales, handling all cross-border customs issues/documentation, arranging shipments, health and safety representation and social media marketing. Sheena graduated from the
University of Guelph
in 1992 with a BA in English and Drama and in 1995 graduated with a Diploma in Radio and Television Broadcasting from
Centennial College
. In her spare time, Sheena enjoys traveling, gardening and hikes with family and friends.