The National Slate Association's Fall Conference was held at the beautiful Chateau Frontenac located inside the walls of Old Quebec City. Built in 1892 by Canadian Pacific Railway, this luxury hotel sits on a cliff overlooking the St. Lawrence River.

On Friday October 24th, NSA members participated in various presentations from slate tools to alternative slate roof installation methods.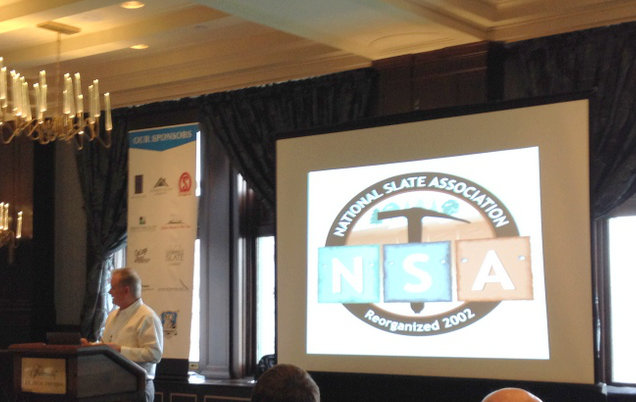 Arrangements were made for the members to visit the Chateau Frontenac's roof top garden to get a closer look at the hotel's new copper roofs which were replaced over a three year span.
After lunch members were treated to a walking tour of old Quebec City where they learned about the history of Old Quebec, architectural influence of the French and English, traditional Quebec roofs and a glimpse of the great QE2 cruise ship! The QE2 was built in 1969 and is 963 FT long! The ships journey was a 12 day tour of New England and the Canadian Sojourn. It departed New York on October 16 and arrived in Quebec City October 24th. It was a real treat to see a ship with so much history.
On Saturday October 25th, the NSA members were joined by a few APTI (Association for Preservation Technology International) members who wanted to see the slate quarry. Guests boarded buses for the 3 hour drive to the Glendyne Quarry in St. Marc Du Lac Long, which is the producer of our North Country Unfading Black slate.
Along the drive, guests enjoyed the music of talented Quebec musicians who played their accordions, guitars and fiddles.
The bus arrived at the beautiful Eglise de Saint Marc church which was built in 1922, which just happened to have a North Country Unfading Black slate roof! Members were given a brief presentation on the history of Glendyne and the direction the company is heading.
Lunch was then served at the local community centre. Members then broke up into three groups to tour Glendyne quarry, mill, marking area, yard and tip off.
Glendyne is one of the largest roofing slate producing facilities in North America the first production from this vein of slate occurred in the early 1900's. Known for its smooth texture blue/black, consistent color, rated ASTM S-1, the North Country Unfading Black has earned the admiration of contractors and building owners around the world.
Members were impressed with the quality of care employees took from the slate markers, to splitters to quality control station.
We were proud to show our slate friends the Glendyne quarry.
For North Country Unfading Black project references please call us at Toll Free 1-800-975-2835.
Sheena Owen
Sheena Owen began working for North Country Slate on October 12, 1999. Started as the Sales Coordinator and transitioned to a Sales Representative. Daily duties include providing customer service, new business development, inside sales, handling all cross-border customs issues/documentation, arranging shipments, health and safety representation and social media marketing. Sheena graduated from the
University of Guelph
in 1992 with a BA in English and Drama and in 1995 graduated with a Diploma in Radio and Television Broadcasting from
Centennial College
. In her spare time, Sheena enjoys traveling, gardening and hikes with family and friends.