Slate rock is regularly used as a building material for slate shingles, but slate has many other uses from kitchenware to backyard items to homebuilding. How many of these life-enhancing slate products could you use?
Slate is a metamorphic rock, which means the rock changed from a different type of rock. Slate forms when a sedimentary rock, such as shale, mudstone, or basalt, becomes compressed. During compression, changes in pressure cause the rock to foliate, which means it develops distinct, repetitive layers.
Slate colors and sizes
Slate can vary greatly or slightly in color. Slate is usually thought of as black in color, but it can be green, grey, red, or purple. Some of these colors fade over the decades and North Country Slate offers both unfading and semi-weathering slate shingles. Click here to compare slate colors.
Splitting slate along where two layers meet causes the slate to split into smooth, flat sheets. These sheets are then cut to size depending on their end use.
North Country Slate offers slate shingles in numerous dimensions from 12 inches by six inches to 24 inches by 14 inches. Slate shingle thickness varies from 3/16 inch to 1.0 inch. Thicker shingles offer greater durability and insulation. Learn more about slate shingle thickness.
Slate is also used as a building material for walls, floors, pathways, and roads. As cladding, it looks aesthetically pleasing and helps insulate the interior. Kitchens, bathrooms, basements, and porches are great candidates for slate floors. New or broken slate pieces make for a pleasing walkway. And slate can be used in paving applications. Quarries that mine slate use slate to surface the quarry roads.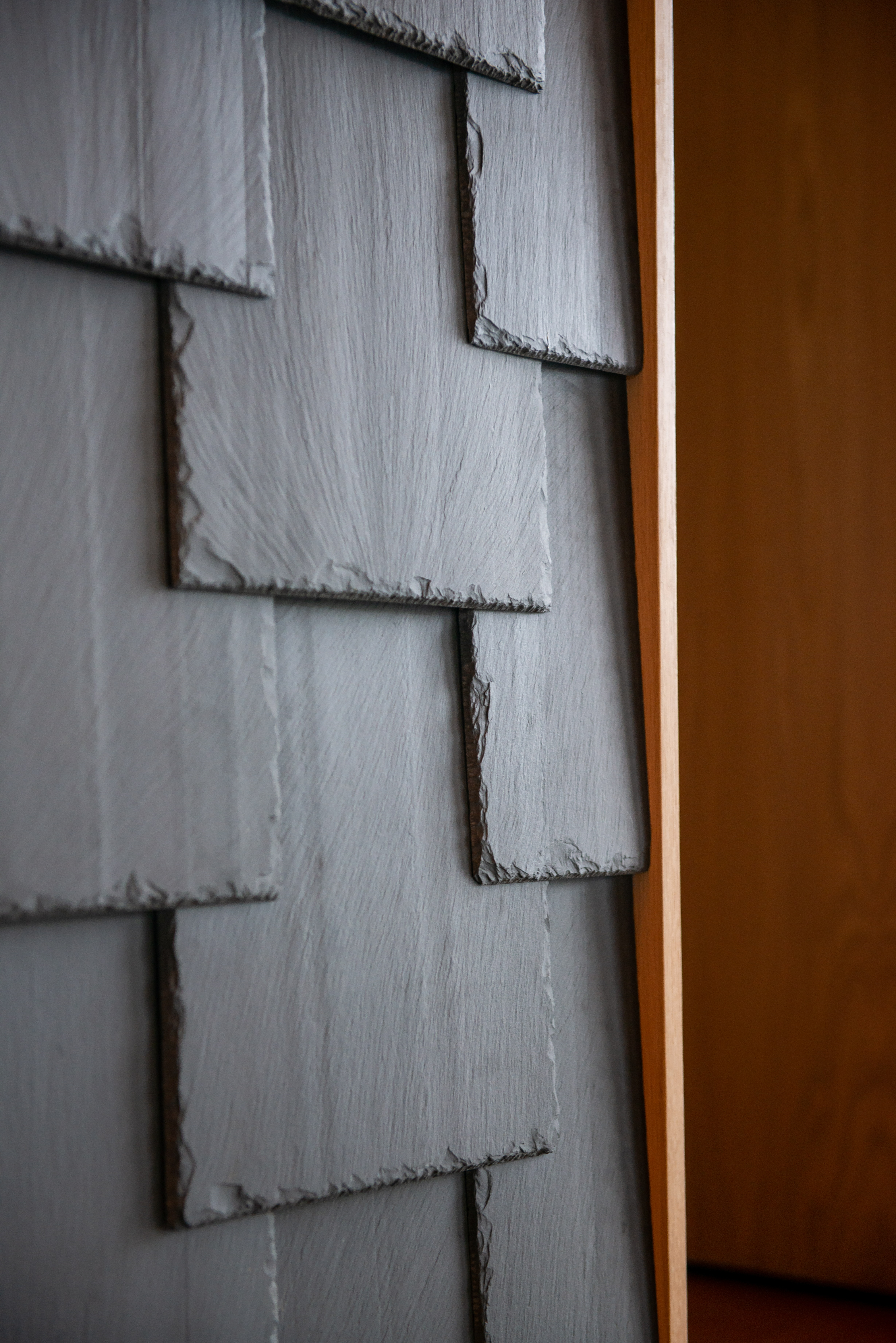 Even more uses for slate
Slate is fireproof and can handle hot temperatures. Because of this, smaller slate pieces can serve as a trivet (for placing hot kettles or pots of water). And, since slate is a great conductor of heat, it makes a great warm plate for keeping food warm once served.
Since slate is resistant to cold temperatures, it can also act as a cold plate. Put it in the freezer or fridge, and then serve your cold food on it. The cold slate plate will keep the food colder, longer.
It can also be used as a serving plate, cheese board, or even a cutting board. A slate plate's end-use potential is that diverse.
Maintain the slate's deep luster by sealing it with mineral oil. (This also helps prevent items from sticking to the slate, which aids in cleaning it).
Outside the kitchen, slate plates are used for numerous decorative purposes. Due to slate's fireproof quality, it can serve as the base for candles. Because slate is waterproof, it makes a great base for indoor potted plants and soap dishes.
Use slate in your backyard by installing a slate bench or decorative fountain. You can also use slate to build your patio or pool.
Historically, people have used slate to create billiard tables, writing tablets, laboratory benchtops, tombstones, whetstones—a stone used to sharpen tools and weapons—and electrical switch boxes.
From roofs to roads to backyards to kitchens, slate has many uses. What can you design with slate?
North Country Slate is a trusted supplier of quality slate products. Contact North Country Slate to inquire about replacing your shingles with slate shingles.
Nathan Medcalf
Nathan Medcalf has been a content creator (writer, photographer, and videographer) for more than six years and has been published in 30 different trade magazines. He has been writing about construction, specialty trade, resource extraction, and technology since 2006, and primarily serves clients within the construction industry (heavy equipment manufacturers and dealers, technology providers, trade shows, and building material suppliers). Nathan Medcalf posts a lot about construction (equipment, technology, and trends) on his
LinkedIn
page. Nathan has been a writer, columnist, editor, and content curator for numerous trade publications and web sites, including:
Equipment Today
,
Engineering News Record
,
Aggregates Manager
and
ConExpo-Con/Agg.com
.