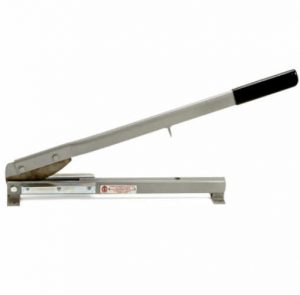 A slate cutter is needed when jobs require a piece of slate to be a shape other than its rectangular form from the quarry. This can include trimming a piece that is too large, curved cuts and diagonal cuts for hips and valleys. An alternative to a slate cutter is to trim or cut slate with a slate hammer and slate stake. This is a better approach for people with experience, trimming thicker slates, or artistic cuts. A slate cutter works best for when looking for consistency and ease of cutting.
Slate cutters are designed to cut slate up to 3/8". Slate thicker than 3/8" will either need to be sawed with a diamond blade, which will leave a square cut that will need a chamfer added to, or cut with a hammer and stake. The benefit of a slate cutter is that it's a relatively mistake free, simple process.
To use a cutter, turn your slate over*, push the part of the slate you want to cut against the blade, and then pull the handle down towards you. This will make a slot in the slate the size of the blade. Then you will push the created slot in the slate through the blade for a cut and feed motion. There are two brackets that attach to a slate cutter to give it support so that the piece of slate will not break while cutting. The brackets can be seen on the picture below close to the fulcrum. Having the brackets on will make cutting concave and convex curves challenging. Securing the cutter to a board is also a good idea to give the cutting process more leverage.
(*Note: It is common practice to feed the slate upside down in order to produce a chamfered edge to the upside of the finished piece)
An important aspect of the slate cutter is that it does not leave a straight cut on the piece of slate. A slate cutter will leave a chamfered edge that is most desirable aesthetically. The weight of the cutter is also important because you want the ability to bring it up on the roof with you. The flared base cutter is a good example of a cutter to use on the roof. The added feature allows you to kneel on the base for stability or put it into your tool belt when cutting on the roof.
Sheena Owen
Sheena Owen began working for North Country Slate on October 12, 1999. Started as the Sales Coordinator and transitioned to a Sales Representative. Daily duties include providing customer service, new business development, inside sales, handling all cross-border customs issues/documentation, arranging shipments, health and safety representation and social media marketing. Sheena graduated from the
University of Guelph
in 1992 with a BA in English and Drama and in 1995 graduated with a Diploma in Radio and Television Broadcasting from
Centennial College
. In her spare time, Sheena enjoys traveling, gardening and hikes with family and friends.