The Land of Lincoln, as Illinois is famously known, is one of the most populous and diverse states in the US. The Chicagoland major metropolitan area is its most populous city, and plays host to many successful sports franchises, including two MLB franchises – the Chicago Cubs and Chicago White Sox. The Chicago Blackhawks of the NHL, the Chicago Bears of the NFL, and the Chicago Bulls of the NBA also make their home in the Windy City. Illinois has a long and storied history, and the city of Chicago is famous for its distinct and austere architectural landscape. As is usually the case with remarkable architecture, slate roofs have played an important part in earning that reputation.
North Country Slate has been supplying slate roofing materials to Illinois for more than two decades. Over the years, we have been lucky enough to provide slate roof tiles  for a wide variety of projects, including private homes, government buildings, churches, and historical refurbishments.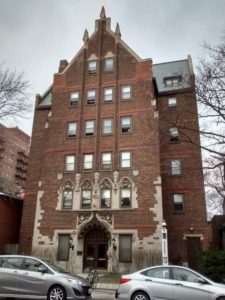 How to Order Slate Roof Tiles in Illinois
Reach out to us, and let us help you through the process. Our knowledgeable and experienced staff are ready to walk you through the process step-by-step. We're able to have sample slates delivered to help you select the perfect color for your roof, we have design support options available to assist you in building an adequate roof deck, and we'll ship the product directly to your build site. We also supply all kinds of slating tools, including slate hammers, slate trimmers, and both copper and stainless steel nails. We have everything you need to get started building your 100 year roof today.
Slate tiles have been used as a natural roofing material for almost 1,000 years. Originally created by the forces of nature over the course of millions of years, slate is a 100% natural product that requires no harmful chemicals or environmentally hazardous processes in order to produce. Slate is unaffected by freeze-thaw cycles, is fire-resistant, and capable of withstanding ice-balls up to two-inches thick at speeds of up to 76 MPH.
Slate roof tiles most commonly come in sizes ranging from 16-18" in length by 8-12" in width, and in thicknesses ranging from 3/16" to ¾". The most common widths of slate will weigh between 935 and 1,170 pounds per 100 square feet. Slate shingles are usually affixed to roof decks with copper slating nails, although stainless steel nails are occasionally used as a substitute.
Some of the more exciting projects our slate has been involved in include:
The historic Wheeler Mansion in Chicago, IL (

Unfading Black

slate roofing tiles)

The University of Chicago's Blackstone Hall in Chicago, IL (

Unfading Green

slate roofing tiles)

The Oak Lawn Metra Station in Oak Lawn, IL (Semi-Weathering Green &

Semi-Weathering Purple

Blend slate roofing tiles)

The Park Ridge Library in Park Ridge, IL (Unfading Black and Unfading Green Blend slate roofing tiles)
In addition to these projects, one of the more interesting projects we have been lucky enough to contribute our slate roof tiles to in Illinois is the Levy Mayer Hall at Northwestern University's Law Campus in Chicago; this beautiful statement roof is an example of a graduated slate roof, featuring a blend of different widths and lengths of slate pieces, with the larger and heavier slate reaching out to the eaves while the smaller and thinner slates are closer to the top. Graduated slate roofs have an especially historic appeal, reminiscent of the days when slate tile roofs were built with whatever slate was available, instead of today where slate is ordered direct from North Country Slates' extensive inventory, milled to order and to design specifications. The unique blend of lengths, widths, and colors ensures that no other roof is exactly similar, contributing to the austere aesthetic of natural slate roofs.
The Advantages of North Country Slate
North Country Slate has a proven track record of being the most reliable slate roof tile provider in Illinois as well as across North America. North Country is the exclusive provider of North Country's Unfading Black Roofing Slate, the only comparable slate to the famed Pennsylvania Peach Bottom roofing slate, once rated as the finest slate roof tile in the world. We maintain a well-stocked inventory so that we can supply all our customers with top-quality slate shingles year-round. Our success is only measured by our clients' satisfaction, so North Country Slate always endeavors to put the customer experience first.
Depending on the quality and rarity of the slate, slate roofs will cost approximately $600-800 USD per 100 square feet of roof. The price varies based on the availability and working characteristics of the slate involved; for example, North Country's Semi-Weathering Gray/Green slate roofing tiles is a more affordable slate because it is widely available and easily trimmed, while North Country's Unfading Red slate roof tile is more brittle and harder to quarry, making it a higher-cost slate. 
High quality roofing slate has been proven to perform in the harshest climate conditions and has demonstrated success as a roofing material for more than 1,000 years.
While a properly installed slate roof with an appropriate headlap will perform without any underlayment at all, as is commonly the case in the construction of barns, a 30-pound felt underlayment is recommended and required by most building codes.
"The experience of working with North Country Slate is wonderful! The staffs are professional, knowledgeable with customers' needs in mind. They are so kind to help me find a local supply distributor in my area to do the final delivery."
"NC Slate helped guide us with our new roof. How could anyone go wrong with a natural local slate called unfading black from the Glendyne mine in Quebec. We will never have to feel worried about our choice with curling and fading etc. My grandfather had a saying: I cannot afford to buy cheap or do things cheaply. I have always followed his wisdom."
"I am pleased to say that the communication and responsiveness at North Country Slate is absolutely incredible! Also, the quality of the slate being produced is one of the best on the market! You can not go wrong with North Country Slate!
"Proper product selection & Design is a key component in a Superior Roof System and this is why we choose NCS!"
Our Professional Associations