Louisiana is one of the most interesting and diverse states in the USA. From its capital in Baton Rouge to its most famous city of New Orleans, Louisiana represents a wealth of culturally and geographically unique experiences. Known for its infamous Mardi Gras festival, as well as its long-celebrated French Quarter, the historic port city of New Orleans remains a top tourist destination in the US. The Big Easy also plays host to the New Orleans Saints of the NFL and the NBA's New Orleans Pelicans, which help to drive the local economy.
Slate shingles have a long association with the city of New Orleans and with the state of Louisiana at large. Originally selected for their extremely fire-resistant qualities, slate shingles have long been the preferred roofing material for homes, businesses, and institutions across the state of Louisiana. In fact, slate roofs are so fundamental to the architectural make-up of the French Quarter that the Vieux Carre Commission, the local governing body for preserving the French quarter, strongly encourages owners in the district considering renovations to preserve roofs with traditional slate tiles  matching the same quality, color, and size of the original roof.
It is certainly not difficult to see why – slate roofs are the longest lasting, most resilient, and undeniably beautiful roofs available.  
North Country Slate has been the pre-eminent supplier of top-quality slate roof tiles  in Louisiana for more than two decades. Many notable buildings in Louisiana have been roofed or repaired using North Country Slate's Unfading Black roofing tile, as well as many of our other beautiful slate color options.
Beyond the French Quarter, slate roofs are popular in neighborhoods from the Garden District, Mid-City, and Marginy-Bywater. Across the state, slate shingle roofs remain an undeniably classy, ultimately beautiful, and unfailingly dependable roofing selection.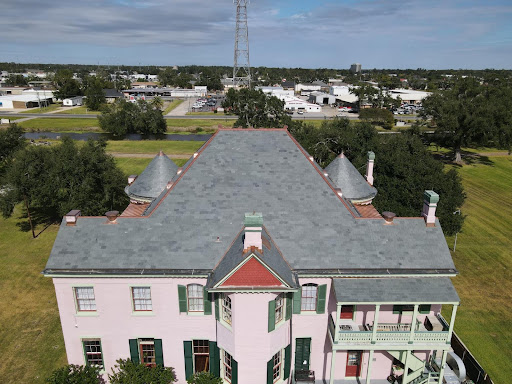 How to Order Slate Roof Tiles  in Louisiana
Contact us! Our experienced and knowledgeable team is ready to help you with every step on your slate roof journey. We can assist you in choosing from our wide variety of slate colors by sending sample slates to help understand the qualities of slate colorization. We offer design support services to help in selecting the right sizes and widths of slate for your project. From getting a quote to arranging delivery directly to your build site, North Country Slate is ready to help you get started on your 100-year roof today!
Slate is a natural stone roofing material produced by natural geological forces over 5 million years ago. Its shingles have been the most reliable and desirable roofing tiles for almost 1000 years. Its natural beauty and fire- and weather-proof qualities have been keeping houses safe and dry for almost 1000 years. North Country Slate's shingles have been tested to ASTM S-1 grade certification, guaranteed to provide security against the most formidable weather conditions. Slates are available in a variety of standard sizes, such as 18" x 12", 20" x 12", and 16" x 8", and custom trim patterns are available. Different sizes provide different aesthetic effects and are often combined to create a beautiful statement roof.
Some of the most exciting North Country Slate projects in Louisiana include:
The Southdown Plantation House & Museum in Houma, LA
The Advantages of North Country Slate
North Country Slate is the 100-year roof! Slate roofs have a lifespan more than three times that of asphalt shingles and maintain their integrity far longer than artificial slate. Our design support services will help to ensure your architect and builder have all the tools they need to install your roof successfully. Properly installed, a slate roof will resist freeze-thaw cycles and fire, and withstand colossal hail strikes and windspeeds faster than 100 MPH. No other roofing material supplier is able to provide security for a century the way that North Country Slate's 100-year roof will guarantee. If you're investing in a new build or historical refurbishment, North Country Slate is the first place to contact.
ASTM S-1 slate shingles cost approximately $600-800 per 100 square feet, depending on the slate. Given its extraordinary service life and contribution to curb appeal, slate roofing is an excellent property investment.
Depending on its thickness, a slate roof can weigh anywhere from 700-3,250 lbs per square foot, with most standard thicknesses weighing between 935 and 1,170 pounds per 100 square feet.
Slate roof tiles  may occasionally be damaged by debris from windstorms or fallen tree limbs, but slate shingles are easily replaced by qualified slaters. Only catastrophic damage to 20-30% of the roof will require total roof replacement.
" Chris Large at North Country Slate is prompt and professional. They are the sole distributor of "North Country Black" slate which is some of the best milled, sorted, and crated slate offered here in North America. Coming from a lifetime slate roofing contractor, they're highly recommended!"
"I've dealt with John Neil and North Country Slate for over 20 years and I've enjoyed every one of those years. Not only do they have great quality products they are a great team to work with. North Country Black is one of the best slates I've used and continue to use in my 30 years of slate roofing experience. I highly recommend North Country Slate
I have Been working hand in hand with the Team at North Country Slate for many years now. Their knowledgeable staff is second to none and they provide some the best quality roofing materials quarried locally in Canada and across the globe. If you have any need for roofing slate look no further than North Country!
Our Professional Associations