Abbeville is a small city in the Vermilion Parish of Louisiana and is located 20 miles southwest of Lafayette. Founded in 1854 by French missionary Père Antoine Desire Mégret, the city was patterned on a French Provencal Village and the first settlers were French speaking Acadians from Nova Scotia.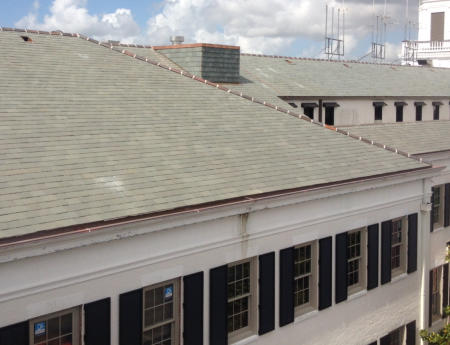 The Vermilion Parish Courthouse is located in the heart of Abbeville, LA and is the third courthouse on the site. The first courthouse was built in 1847 and was made of wood. It fell into disrepair after the Civil War and a fire on April 6, 1885. The second courthouse was built in 1890 and by 1951 was too small for the Parish. The current courthouse was built in 1952 and designed by Louisiana born architect, A Hays Town at a cost of $725,884 and opened its doors May 30, 1952. The front of the courthouse is similar to a Greek temple with six columns. The back is similar to a Classic Revival Louisiana Plantation home. Town's trademark was his use of recycled building materials such as wood flooring and bricks as well as his fondness of a weathering slate roof.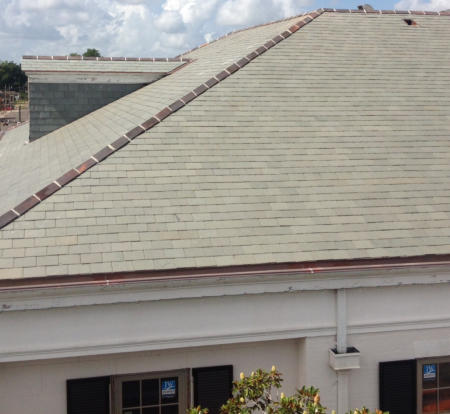 We supplied 200 squares of our North Country Semi-Weathering Gray/Green roofing slate (20" x 12" x ¼" – 3/8").
Sheena Owen
Sheena Owen began working for North Country Slate on October 12, 1999. Started as the Sales Coordinator and transitioned to a Sales Representative. Daily duties include providing customer service, new business development, inside sales, handling all cross-border customs issues/documentation, arranging shipments, health and safety representation and social media marketing. Sheena graduated from the
University of Guelph
in 1992 with a BA in English and Drama and in 1995 graduated with a Diploma in Radio and Television Broadcasting from
Centennial College
. In her spare time, Sheena enjoys traveling, gardening and hikes with family and friends.