When it comes to slate, there is arguably no more historic association to a state than there is to Pennsylvania. Famed for its Peach Bottom Slate deposit, Pennsylvania has a long history of quarrying high-quality roofing slate and proudly displaying it atop its most illustrious buildings. Slate is so intimately intertwined with the history and development of Pennsylvania that many towns in the state have a slate based name, including Slate Lick, Slate Hill, Slatedale, Slatington, and Slateville, among others.
Although Pennsylvania Peach Bottom Slate, which was awarded the title of world's finest roofing slate in London in 1851, it can no longer be quarried. North Country's Unfading Black roofing slate, which is produced at Glendyne quarry in Saint-Marc-du-Lac-Long, Quebec, Canada, has been favorably compared to the legendary Peach Bottom Slate, both in its high quality and its distinctive blue-black coloring. For historical refurbishments, North Country's Unfading Black is the best match to original Pennsylvania Black roofing slate, and can be found on top of roofs across the state from Pittsburgh to Philadelphia, and in many places in between.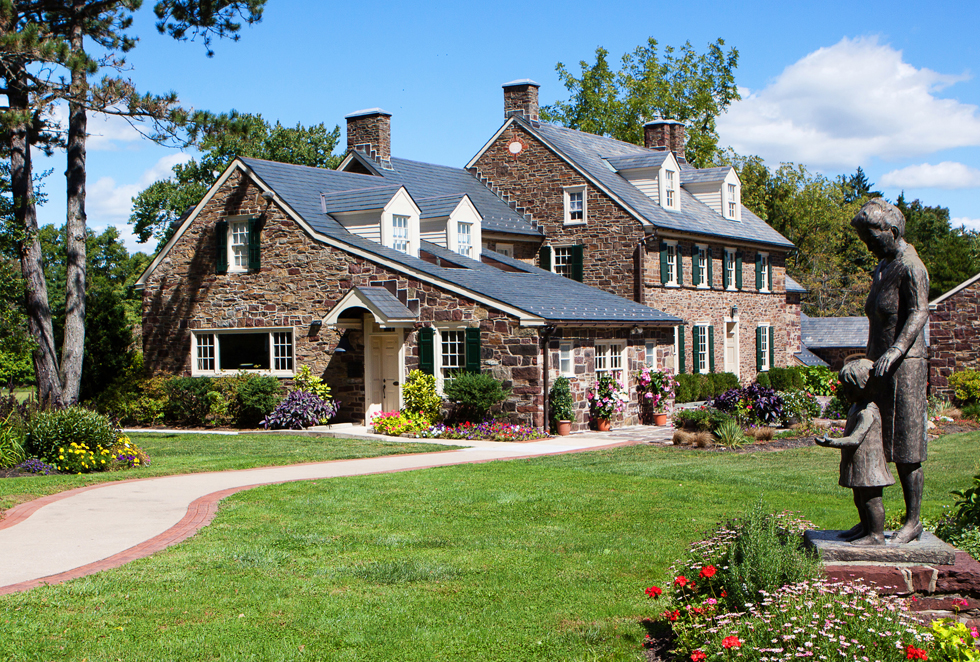 How to Order North Country Slate in Pennsylvania
Get in touch with us! Our sales and customer service teams are experienced, knowledgeable and ready to help you put a slate roof over your head today. We also have our quick quote tool available for quoting jobs on the fly. From selecting a slate color and having samples shipped to your door, from obtaining a quote and having the slate delivered directly to your build site, we're ready to help you every step of the way. We even have design support available to assist your architect or builder, and we can recommend a reliable slate roof contractor in your area to make sure the job gets done right. Reach out and get started on your 100 Year Roof today.
Created beneath the surface over the course of millions of years, slate is an all-natural roofing material that requires no environmentally hazardous chemicals or processes in order to extract and remove. Slate shingles have been used as a high quality and long-lasting roofing material for more than 1,000 years. Modern roofing slates come in traditional sizes, usually16-20" long by 8-12" wide, and in thicknesses usually ranging from 3/16" to ½". While thicker slate is heavier, the most common size of slate, ¼-3/8", will weigh between 935-1170 lbs. 
Some of the more exciting projects North Country has been involved in Pennsylvania include:
The Pearl S. Buck House & Museum in Perkasie, PA (

Unfading Black

Slate Roofing Tiles)

The Church of the Good Shepherd in Rosemont, PA (

Unfading Gray

Slate Roofing Tiles)

Vail Hall at Lincoln University in Chester, PA (

Semi-Weathering Gray/Black

Slate Roofing Tiles)

The William Montgomery House in Lancaster, PA (Unfading Black Slate Roofing Tiles)

Atherton Hall at the Penn State University in State College, PA (

Semi-Weathering Gray/Green

Slate Roofing Tiles)

Pigeon Manner in Jim Thorpe, PA (Unfading Black Slate Roofing Tiles)
The tradition of slate roofing is alive and well in the Keystone State, and North Country Slate has been happy to be the supplier of choice for the top-quality slate roof materials in North America.
Why Choose North Country Slate
North Country only offers the best quality slate Slate shingles produced in the United States and Canada. Each color in our catalog of slate options is graded by ASTM International to be S-1, which ensures protection from fire, freeze-thaw cycles, windspeeds exceeding 100 MPH, and strikes from hail chunks larger than golf balls. In addition to our top-tier slate shingles, our design support services will help to ensure a seamless and painless installation process. Because we measure our success by our customers' satisfaction, we take pride in delivering a quality product that will satisfy you for a century. It is the pride we take in our product, and the diligence we take with its delivery, that we are able to deliver the famous North Country Slate 100-year roof.
Damaged shingles are very easily replaced by capable slate roof contractors and even skilled amateurs. While slate shingles can occasionally be damaged by windblown debris and extreme weather events, slate roofs can be repaired unless greater than 30% of the roof is compromised.
The weight of a slate roof will depend upon the thickness of the slate as well as the roof design. Most standard thicknesses will weigh anywhere from 935 to 1,170 pounds per roofing square. Roofing squares cover 100 square feet of roof surface area.
We're happy to maintain an up-to-date database of qualified and skilled slaters capable of providing award-winning results with even the most challenging of roofing jobs.
Our Professional Associations