A good quality S-1 rated roofing slate is one of the most durable products you will find in the market. In most cases slate roof tiles are resistant to hail damage and other impact damage. However, there are a number of factors that could cause damage such as; original slate was poor quality, the installation was a side lap (single layer of slate) and the size of the hailstones.  On June 6, 2018 hailstones the size of baseballs hit parts of North Texas, from Carrollton to Coppell to Arlington with significant property damage. Other areas affected by the storm included; Frisco, Euless, Irving, Coppell, Prosper, Aubrey, The Colony, Valley Ranch, Hebron and Grand Prairie.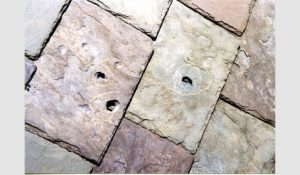 What is Hail?
After a long winter, most of us can't wait for the warm weather that summer brings.  With summer weather comes active weather systems with the potential to produce hail storms. Hail as defined by the Weather Network "usually occurs in heavy localized showers with mature thunderstorms. It is caused by atmospheric instability, which often produces updrafts strong enough to carry the weight of hailstones as they grow.  The updrafts circulate water droplets above and below the freezing level in thunderstorms where the water freezes. The stronger the circulation and the updraft, the bigger the stones can grow". A hailstone size can vary from as small as a pea to as large as a softball which could weigh 1.1 lb. Hail occurs most frequently within continental interiors and in North America the Hail Belt includes Colorado, Nebraska, Wyoming and Alberta. In 2015, Texas was identified by Progressive Insurance as the state with the most number of hail claims followed by Colorado, Kansas, Minnesota and Missouri. One can only imagine the serious damage a larger hailstone can do to planes, cars, glass roof structures, crops and homes.
2.  Homeowners should review their insurance policies to see what is covered
If your slate roof is damaged by a hail storm, it is important that you hire a qualified roofing contractor with slate experience. Your roofing contractor will have the equipment and knowledge to carefully inspect the roof without causing further damage. Some obvious signs will be puncture holes, cracks and broken pieces. Ask your roofing contractor for pictures so you can see the damage and understand the costs involved in repairing and replacing damaged slates. Make sure you keep accurate records of the time and date of hail storm and when your roofing contractor came to inspect the roof.
3.  Can hail damage be fixed and how much does it cost to repair?
Some insurance adjusters may need educating as homes with slate and copper can be more complex than an asphalt shingled roof.  Estimating the linear and square footage for materials is fairly simple math, it's the labour portion that takes more time as material needs to be sourced, there may be a slate pattern or special trimming involved. A knowledgeable slater will determine if the entire roof needs to be replaced or perhaps just a section of the roof.  The rule of thumb is if 20-30% of the slates are damaged, it's better to replace the entire roof.  When your roofing contractor sources a good match to your original slate roof, it may take 2-12 weeks lead time to produce the slate depending on the color, size and quantity required. On average, North American produced S-1 rated roofing slate will cost $400 – $600 USD per square (100 square feet) or $4.00 to $6.00 USD per square foot for a standard thickness 1/4"-3/8" roof. Color, size and availability are all contributing factors to this range of roofing slate material costs. There is also the cost of transportation from producer to job site which will vary depending on the quantity shipped and distance to job site. Installation costs will also vary depending on the roof complexity, roof pitch, accessibility, the details of hips, ridges and valleys, flashing materials, regional wage, insurance and benefit variations.  Installation on a simple gable roof may cost $15 USD per square foot whereas a more complex roof may cost $30 USD  per square foot or more.
4. Hail testing for natural roofing slate
In 2010, the National Slate Association hired Architectural Testing, Inc., of Southlake, Texas to independently establish the ability of North American produced, S-1 rated roofing slate to withstand the impact from hail without damage. Slate samples (16" x 8" and 16" x 10") were supplied from National Slate Association quarry members from the United States and Canada.  Slate panels were set up and subjected to impact of various size of ice balls fired from a canon. Based on impact resistance the tests grade the slate in four classes.  Class 1 (resistance to 1 ¼" ice balls), Class 2 (resistance to 1 ½" ice balls), Class 3 (resistance to 1 ¾" ice balls) and Class 4 (resistance to 2" ice balls).
Under the FM 4473 testing conducted by Architectural Testing, Inc. a North American produced roofing slate 3/8" thick met the requirements of Class 4 which is the highest rating for roof covering.  The 3/8" roofing slates (Unfading Black, Semi-Weathering Gray/Green, Semi-Weathering Strata Gray) survived the impact of 2" ice balls travelling at 76 MPH with no visible cracking or breakage.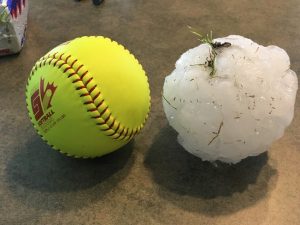 The standard thickness, ¼", North American produced slate met the second highest rating of Class 3 for roof covering. The ¼" roofing slates (Unfading Green, Unfading Purple and Unfading Black) survived the impact of 1 ¾" ice balls travelling at 69 MPH with no visible cracking or breakage.
For more information on hail testing, please click on the link on our website to watch the National Slate Association's Impact Resistance of Natural Slate Testing Video as well as a copy of the National Slate Association Hail Test Report.
Sheena Owen
Sheena Owen began working for North Country Slate on October 12, 1999. Started as the Sales Coordinator and transitioned to a Sales Representative. Daily duties include providing customer service, new business development, inside sales, handling all cross-border customs issues/documentation, arranging shipments, health and safety representation and social media marketing. Sheena graduated from the
University of Guelph
in 1992 with a BA in English and Drama and in 1995 graduated with a Diploma in Radio and Television Broadcasting from
Centennial College
. In her spare time, Sheena enjoys traveling, gardening and hikes with family and friends.