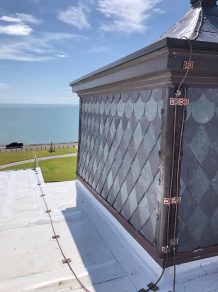 The Fulton Mansion, a classic example of French Second Empire architecture was built between 1874-1877 for George Ware Fulton, an East Coast engineer, inventor and ranching entrepreneur.  The mansion was fondly named Oakhurst by George and his wife Harriet because of the large oak trees on the property.  The mansion was known for its advanced construction systems such as central heating, indoor hot/cold water plumbing and gas lighting. Located in the coastal city, Rockport, Texas, the mansion was engineered to survive hurricanes.  Put to the test, the Fulton Mansion has survived 9 hurricanes!
Built to last, Mr. Fulton carefully selected his building materials.  An invoice found showed the original 5,000 slate roofing tiles were shipped by steamer from Penrhyn's slate quarry in North Wales. During this time, the Penrhyn quarry was the largest and oldest quarry which opened in 1784. By the end of the 19th century the quarry employed nearly 3,000 employees.  Named for the proximity to the town of Bangor, these non-fading slates known as "Bangor Blue" are heather blue to purple color.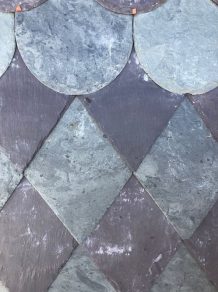 On August 25, 2017, the Fulton Mansion was a direct hit of category 4 Hurricane Harvey with the winds destroying the metal roof and leaving significant damage to the house.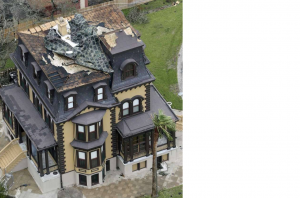 In July 2019, we supplied 16" x 10" x ¼" in Welsh Purple and Unfading Grey roofing slates for the mansard slate roof repair. The slates supplied were traditional rectangular cut, diamond point and scallop cut.  Decorative slate patterns like the one installed on the Fulton Mansion add character and breakup the plainness of a straight mansard roof common on Second Empire buildings. When ordering a slate pattern, in addition to specifying the color and size, a diagram should be included with trimming details.  Slates shapes are; diamond, fish scale, gothic, hexagon and clipped corners. A patterned slate roof with different colors and shapes will increase material and labor costs depending on the color selected and intricacy of the pattern.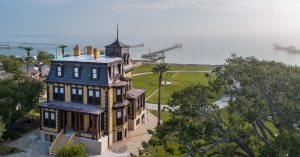 In addition to the roof repair, there was extensive interior restoration required. The Texas Historical Commission's Fulton Mansion opened as a museum in 1983 offering a glimpse into a prominent South Texas family's Victorian world. The long-awaited grand re-opening was on December 14, 2019 after 2 years of post Hurricane Harvey repairs.
Sheena Owen
Sheena Owen began working for North Country Slate on October 12, 1999. Started as the Sales Coordinator and transitioned to a Sales Representative. Daily duties include providing customer service, new business development, inside sales, handling all cross-border customs issues/documentation, arranging shipments, health and safety representation and social media marketing. Sheena graduated from the
University of Guelph
in 1992 with a BA in English and Drama and in 1995 graduated with a Diploma in Radio and Television Broadcasting from
Centennial College
. In her spare time, Sheena enjoys traveling, gardening and hikes with family and friends.