The Lake Forest Train Station in Illinois was built between 1899-1900 and was the fourth station on the site. The larger English Tudor style train station opened in 1901, to accommodate the large city crowds who enjoyed Lake Forest's weekend events like golf, horse shows and polo matches.  Architects Charles S Frost and Alfred H Granger designed the station for their Father-in-law who at the time was the President of the Chicago and North Western Railway.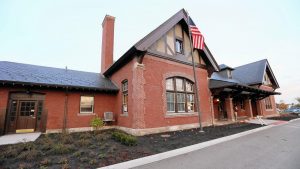 During the 1960s and 1970s, railroad stations went thru difficult times.  In 1976, the Preservation Foundation raised $400,000 to repair the Lake Forest Train Station which was in poor shape.  The original roof was slate, but replaced with cedar shale in the 1980s because the city council didn't have enough funds to replace with slate.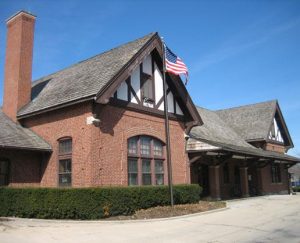 A federal grant of $835,900 allowed for the roof to be replaced with slate once again.  In 2011, we supplied 155 squares of our North Country Unfading Black roofing slate (18" L x 10" W x ¼" thick). This slate is produced in St. Marc Du Lac Long, Quebec by Glendyne.  North Country Slate has been the exclusive distributor of the North Country Unfading Black slate roof tiles since September 1997.   Glendyne produces the highest quality product and is one of the most efficient producers of roofing slate in North America.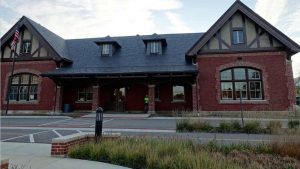 The slate roof along with the other exterior restoration work has returned the Lake Forest Train Station to its 20th century look and the history of the station will now be preserved for many generations.
We have supplied our North Country Unfading Black roofing slates for the following train stations:
MMTA Brunswick Train Station (Brunswick, MD)
MMTA Laurel Train Station (Laurel, MD)
Chatham Train Station (Chatham, NY)
Millersburg Train Station (Millersburg, PA)
Westmount Train Station (Westmount, QC)
Sheena Owen
Sheena Owen began working for North Country Slate on October 12, 1999. Started as the Sales Coordinator and transitioned to a Sales Representative. Daily duties include providing customer service, new business development, inside sales, handling all cross-border customs issues/documentation, arranging shipments, health and safety representation and social media marketing. Sheena graduated from the
University of Guelph
in 1992 with a BA in English and Drama and in 1995 graduated with a Diploma in Radio and Television Broadcasting from
Centennial College
. In her spare time, Sheena enjoys traveling, gardening and hikes with family and friends.