A good quality, well maintained slate roof will probably last longer than you live in your home. A big expense up front, but when you consider how long a slate roof will last, that's money well spent. It pays to examine a slate roof annually and after storms.  If you see a damaged or missing piece of slate, it should be repaired quickly by an experienced slater to prevent interior water damage.  An experienced slater will be able to examine the existing quality, find a suitable match if a section has to be replaced, or source a good quality product if the entire slate roof needs to be replaced.  The rule of thumb is if 20-30% of the slates are damaged, it's better to replace the entire roof.
Created by nature over 500 million years ago, natural roofing slate has been sheltering man from the elements for more than a thousand years. It continues to be the choice for the world's most prestigious and treasured buildings. Slate roofs grace countless churches, universities, courthouses, government buildings and mansions all over the world.
A slate roof is known as "the hundred year roof", well one that tests as an ASTM S1 graded slate. S1 slates will last more than 75 years, S2 slates last 40 to 75 years, S3 slates last 20-40 years.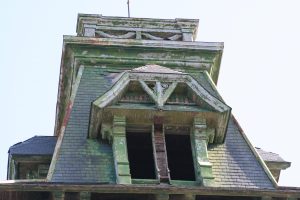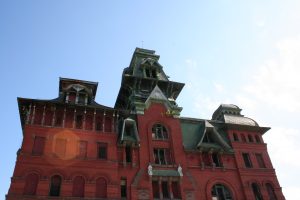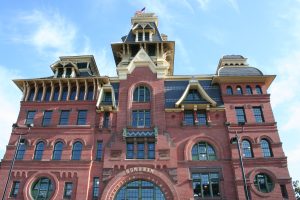 You may have purchased an older home with a slate roof or you are responsible for maintaining a church or university roof.  There may come a point in time that you question can I simply repair sections or does the slate roof need to be replaced.  There are a couple of factors to consider such as:
Broken pieces from age, or lower quality of slate installed, damage from trees
Slates may slide off because stainless steel nails were used and rust over time. The nail holes should also be clean with a shallow countersink on the face so the nail head lies flat. The use of copper nails will prolong the lifespan of a slate roof.
Weather conditions
Roof pitch, the steeper the slope the longer the slate roof will last because the water and snow will run off faster.
Before slate is installed, the slater/roofer should make sure it's of sound quality.  To check the condition of a piece of slate, tap your knuckle on the underside of the slate. If you hear a ring then the piece is good.  If you hear a thud then the slate should be discarded.
If you decide to replace your slate roof, depending on the size and color allow for a 4 to 12 week lead time as it is a natural product.
Sheena Owen
Sheena Owen began working for North Country Slate on October 12, 1999. Started as the Sales Coordinator and transitioned to a Sales Representative. Daily duties include providing customer service, new business development, inside sales, handling all cross-border customs issues/documentation, arranging shipments, health and safety representation and social media marketing. Sheena graduated from the
University of Guelph
in 1992 with a BA in English and Drama and in 1995 graduated with a Diploma in Radio and Television Broadcasting from
Centennial College
. In her spare time, Sheena enjoys traveling, gardening and hikes with family and friends.