Asphalt shingles require a lot of maintenance. So, each season, homeowners should get up on their roofs and inspect them, which can be daunting and is a safety risk.
According to Roofing Contractor magazine, roofing is one of the deadliest occupations in the US. The Bureau of Labor Statistics annually publishes work-related death data. Their data for the year 2020 shows roofing became the third most deadly occupation in the US.
And, although trained professionals injure themselves going up on roofs, average people believe they can safely go on their roofs to perform inspections and maintenance.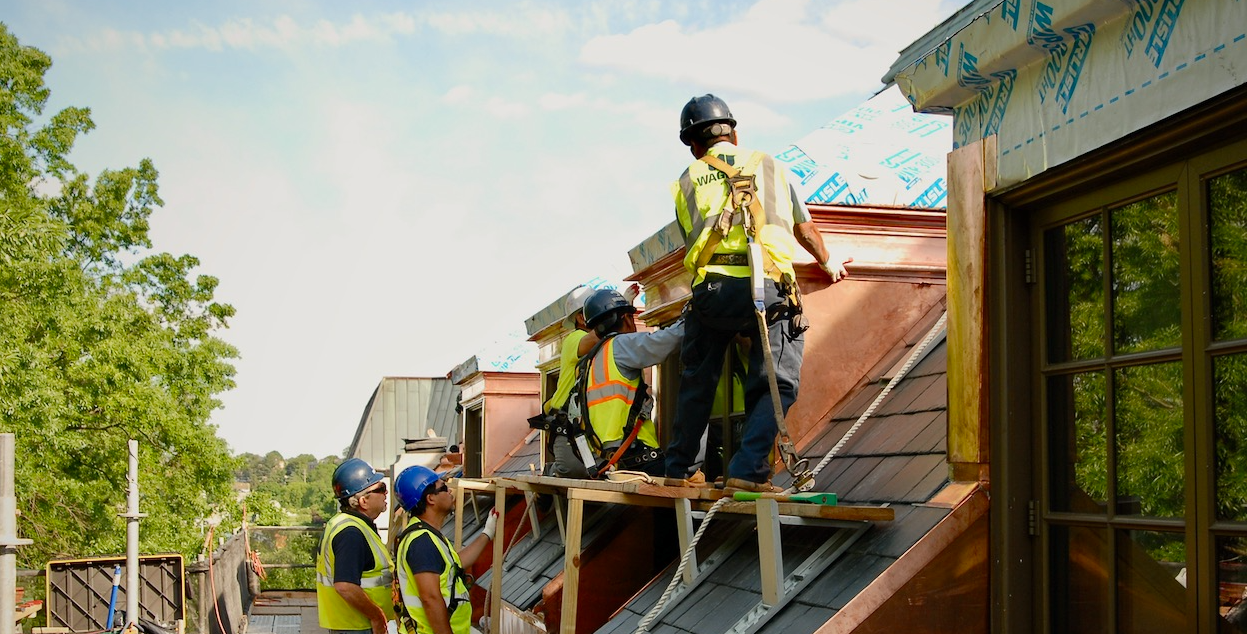 Proper roof inspection
Proper roof inspection requires homeowners to get on their roof and search for shingles that have gone missing, have shifted, or are curled, damaged, worn, or loose. They must also search for loose nails, moss, mold, algae, and lichen.
Once the homeowner discovers an issue, they have to make another trip up and down the ladder, but this time they're carrying tools and shingles. Then, they must find a way to safely complete the work at heights and on a slope.
Plus, several environmental factors negatively affect asphalt shingles. Too much sunlight can dissipate the protective oil coating on the shingles. This causes the shingles to break down more quickly. Excess moisture can result in moss, algae, and lichen. Heavy snow, if not removed, can result in ice dams, which prevent water from properly draining. And then this can quickly cause extensive damage to the shingles and even the roof.
Slate roof maintenance is easy
Slate roofs, on the other hand, don't require nearly the same amount of inspection and maintenance as other types of roofs.
Slate shingles absorb very little water, which makes them less prone to moss, algae, and lichen, as well as freeze-thaw issues. Since high quality slate absorbs no water, it doesn't expand or contract.
Also, slate is incredibly durable and after 75 + years it will eventually start to close in on its life expectancy.
Some slate does discolor and weather over time, as they can eventually fade to brown or tan tones. Semi-weathering slate shingles fade at a more gradual rate, while, unfading slate shingles experience the least amount of discoloration over time.
When replacing a slate shingle, make a note of its dimensions, because slate shingles are available in several standard sizes. Learn more about standard slate shingle sizes.
Inspection and maintenance costs
So, although asphalt shingles have a lower installation cost, there are hidden costs associated with it. Homeowners will spend more time inspecting and maintaining them. Plus, the increased risk of going up on your roof more frequently should be factored into a homeowner's new roof decision.
Slate roofs last much longer than asphalt roofs—four to 10 times longer. Slate roofs are known to last 75 to 150 years, whereas asphalt shingles last between 15 and 25 years. Learn when you should replace your slate roof.
North Country Slate is a trusted supplier of quality slate roofing products. Contact North Country Slate to inquire about replacing your shingles with slate shingles.