Famous for its rolling green hills and fertile pastures, the Bluegrass State is known far and wide for its horse-racing, its Kentucky bourbon, and of course its inimitable music. The internationally renowned Kentucky Derby is held annually at its prestigious Churchill Downs racetrack in Louisville, which is also home to the Louisville Slugger Museum & Factory. In addition to its rich cultural contributions, Kentucky also plays host to a bounty of natural phenomena, including Cumberland Falls and Mammoth Cave National Park.
Slate shingles have been providing security to Kentucky homes, businesses, and institutions since the times of the American Frontier. Well-recommended for their durability and resistance to weather extremes, slate shingles provide security against hail, fire, and gale-force winds.
North Country Slate has been supplying Kentucky with North America's finest roofing slate for more than twenty years.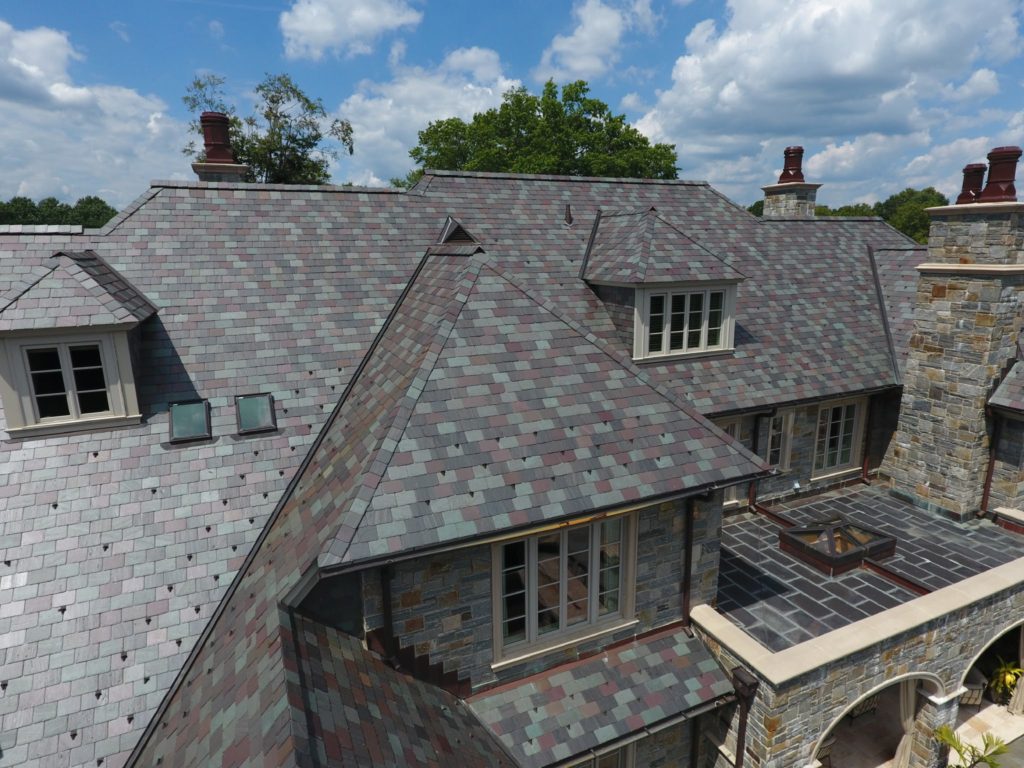 Outside of Louisville, North Country Slate roofs have been spotted protecting homes in Lexington, Bowling Green, and Greenville, KY. Recognized across the state for our quality and aesthetic appeal, North Country Slate is quickly growing into Kentucky's preferred roofing material supplier .
How to Order Slate Roof Tiles  in Kentucky
We're never more than a phone call or email away, although our quick quote tool is available for easy estimation. Our outstanding customer service team is always happy to help you with choosing your perfect slate color by supplying samples for your consideration. Our legendary sales team is ready to assist you with every step of having your 100-year roof installed from quote to construction, thanks to our extensive network of architects and builders that we're able to recommend. Once you've selected the right slate for your new roof or refurbishment, we'll arrange delivery directly to your job site to get your statement slate roof started. 
Slate rock is a product of nature, forged in nature's kiln deep within the surface of the Earth over the course of millions of years. Slate extraction began more than a thousand years ago with the simple hammer and chisel, and it has been relied upon for roofing shingles for just as long. Recognized for its strength and durability, slate roofs have been protecting homes since the late 14th Century. Many historic buildings have been designed with a slate roof in mind, due to its extraordinary service life and natural majestic appeal.
Some of the Kentucky roofs we have been proudest to deliver for include:
Michter's Fort Nelson Distillery Building in Louisville, KY (

Unfading Black

Slate Roof Tiles)
General Butler's State Resort Park in Carrolton, KY (Unfading Black Slate Roof Tiles)
The Advantages of North Country Slate
North Country Slate is a full-service roofing experience. Not only do we offer the highest-quality slate roof tiles in North America, we're able to recommend experienced and qualified local slate roof contractors. We have design support options available to help you imagine and implement the perfect roof for your home, farm, or business. All of our slate is ASTM S-1 graded, and therefore resistant to freeze-thaw cycles, gale-force winds, and nightmare-inducing hail. Because our success is built upon our clients' satisfaction, we're proud to guarantee a century of security with North Country Slate shingles.
While historical slate roofs were often installed efficiently without roof underlayment, most modern building codes require a #30 asphalt saturated organic felt unperforated roof underlayment. Like slate shingles, underlayment is sold in squares. More information on the underlayment process is available here.
Slate roof repair will require the use of a slate ripper, one of the three critical tools involved in successfully installing and maintaining a slate roof. The slate ripper is 30.5" long including its handle. Once you've identified the slate to remove, gently slide the ripper under the slate and reach up for the nails. You may need to use a hammer to reach the nails. Once a nail has been hooked, simply hammer the ripper until the nail has been removed. Repeat for each nail, and you'll be able to pull the damaged slate free. We have slate tile replacement information available here.
Most standard slate thicknesses will weigh approximately 935-1,135 pounds per 100 square feet, but the weight of slate roofs will depend on the thickness of its shingles.
Our Professional Associations