Our Canadian Unfading Black roof slates are produced from a single source in St Marc Du Lac Long, Quebec, Canada near the Maine/New Brunswick border. This blue-black slate supplied 80 percent of the Canadian market during the 1880's and the 1890s.
Our history with the Glendyne quarry dates back to 1995 when we were awarded the North American distribution rights to their blue/black slate.  To many it's known as North Country Unfading Black and to those in the slate valley it's called Canadian Black.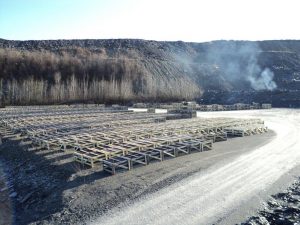 Our Canadian Slate quarry prides itself on preserving the environment.  In 2003, a tree planting program was implemented to not only improve the landscaping but to control soil erosion.  The quarry also has three sedimentation ponds and the water is constantly tested.  Staff's health is also very important and the plant invested in a powerful dust controller.
Canadian slate is durable in extreme weather conditions, it's unfading, high quality guaranteed to last 75 years! Conforms to International Standards (North America C406-00, United Kingdom ES 12326-2, Belgium STS 43.03.6 and France NF228).
Our North Country Unfading Black/Canadian slate is a premium-quality roofing slate offering an elegant and lasting roof for both new construction and restoration projects.  This Canadian slate is smooth, rich black slate with a slight luster and has been often compared to the famous slate of the Monson region of Maine.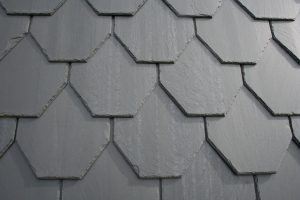 Our North Country Unfading Black roofing slate is available in 3/6" (special order), ¼" (inventory), 3/8" (special order) and Medium Texture which is ¼" – 3/8" (produced from fall out of ¼" production).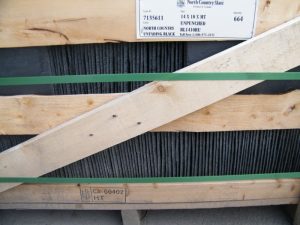 North Country Unfading Black weights per square
Standards                           3/6"                       700 Ibs/square
Quarters                              ¼"                           900 Ibs/square
Medium Textured           ¼" – 3/8"             1100 Ibs/square
Heavies                                3/8"                       1400 Ibs/square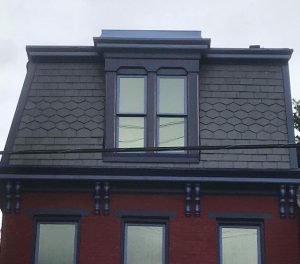 Medium Texture 
The Glendyne quarry prides themselves on providing a quality product.  Part of their quality control comes down to the attention to detail and sorting the pallets by the various thicknesses.  When you order a ¼" slate, each piece is examined to ensure it's an even thickness around each piece.  Pieces that might be ¼" on one end and 3/8" on the other end, are put into a Medium Texture pallet.  The quality is still ASTM S1, but will require a little more attention by the roofing contractor when installing to ensure the various thicknesses are sorted.  If you prefer a more textured roof, the medium texture unfading black roof slates are the way to go!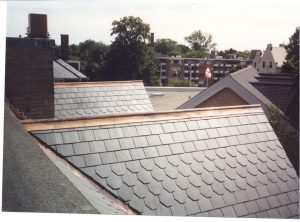 A few of our project references for Medium Texture are:
Roger Smith Hotel – Manhattan, NY
Cathedral of the Immaculate Conception Rectory – Syracuse, NY
Round Hill Presbyterian Church – Felton, PA
Fair Street Christian Church – Springfield, OH
Holmes County Courthouse – Millersburg, PA
Dewitt Country Courthouse – Cuero, TX
Cumberland County Courthouse – Cumberland, VA
North Country Slate Properties
Maintenance free.
Durable and long lasting.
Resistant to chemical pollutants and acid rain.
Noncombustible and fireproof.
Unaffected by freeze/thaw cycles.
Environmentally safe.
Resistant to hail and other impact damage.
Proven performance on rooftops.
Delivered from stock.
Special trimming on request.
Sheena Owen
Sheena Owen began working for North Country Slate on October 12, 1999. Started as the Sales Coordinator and transitioned to a Sales Representative. Daily duties include providing customer service, new business development, inside sales, handling all cross-border customs issues/documentation, arranging shipments, health and safety representation and social media marketing. Sheena graduated from the
University of Guelph
in 1992 with a BA in English and Drama and in 1995 graduated with a Diploma in Radio and Television Broadcasting from
Centennial College
. In her spare time, Sheena enjoys traveling, gardening and hikes with family and friends.