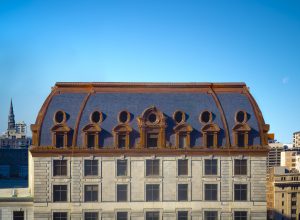 A mansard roof is a four-sided gambrel style hip roof.  Some include elaborate dormer windows for added interior light. The mansard roof is a curb hip roof with slopes on all sides of the building.  A mansard needs two rafters for its different slopes.  These slopes may be convex, straight, concave or both S-shaped.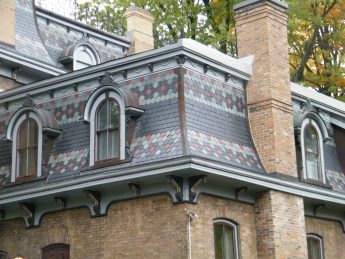 The name mansard comes from Francois Mansart (1598-1666), the man who popularized this style of roof. The earliest mansard roofs example dates back to 1550 on the Louvre Museum in France. In the early 17th century, Parisians were taxed by the number of floors below the roof line and the tax money collected went to support French Royalty. By designing buildings with a mansard roof it provided attic living space and reduced the taxes. The architectural French movement (Second French Empire) from 1852-1870 soon spread throughout the world. In Canada and the United States, mansard roofs have been popular on city halls, hotels, railway stations, universities and mansions.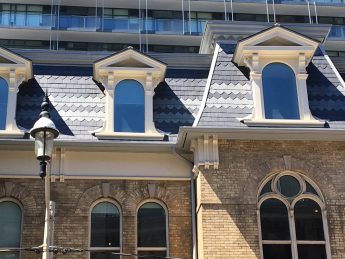 Five advantages of a mansard slate roof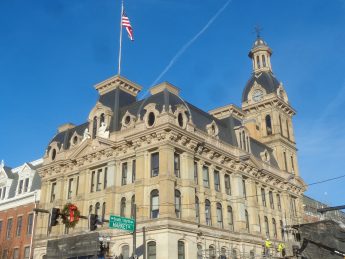 Mansard roofs can be found on Second Empire, Beaux Arts Classical and Richardson Romanesque architectural styles and in most cases the roofing material is traditionally slate tiles with the field slate in black with a colored slate pattern.
Sheena Owen
Sheena Owen began working for North Country Slate on October 12, 1999. Started as the Sales Coordinator and transitioned to a Sales Representative. Daily duties include providing customer service, new business development, inside sales, handling all cross-border customs issues/documentation, arranging shipments, health and safety representation and social media marketing. Sheena graduated from the
University of Guelph
in 1992 with a BA in English and Drama and in 1995 graduated with a Diploma in Radio and Television Broadcasting from
Centennial College
. In her spare time, Sheena enjoys traveling, gardening and hikes with family and friends.