Hardin County, located in the heart of downtown Savannah, TN is named after Colonel Joseph Hardin, a veteran of the Revolutionary War.  The Hardin County Courthouse was built in 1952 with handmade bricks from Virginia, limestone from Indiana and slate shingles from Vermont. In July 2016, North Country Slate supplied 109 squares of a custom Vermont slate three color blend, 18" length x random width x ¼" – 3/8" thick as per architect's specification.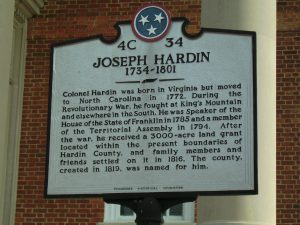 The Vermont custom blend slate roof consisted of 40% Semi-Weathering Grey/Green, 40% Unfading Grey/Green and 20% Semi-Weathering Purple. By using random width slates with these colors softens the transition from color to color on the roof. The weathering slates will turn to tones of brown and buff over time.  These slates were produced by select Vermont quarries and meet the ASTM standards (ASTM specification sets standards for the physical properties of slate including, water absorption, weather resistance and breaking load; as well as tolerances for planarity, squareness and dimensions to name a few) as an S-1 rated roofing slate which will last up to 100 years when installed by a qualified slate roofing company.
Work to the courthouse included removing existing slate roof and replacing; install new underlayment (Self-adhering polymer-modified asphalt sheet complying with ASTM D1970) and new copper flashings (ASTM B370 copper, cold rolled, 16 oz./sq ft). The slate was installed with copper nails.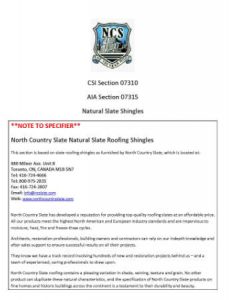 The slate roofing installation specification called for slate shingles that are "hard, dense, sound rock, free of ribbons.  Slate is to be traditional drilled or punched with two nail holes per shingle, located for head lap as specified under installation.  Grade S1 with an expected service life over 75 years per ASTM C406. Slate texture is smooth, thickness is ¼"-3/8" and size is 18" in length x random width. The butt shape of the slate is standard square cut. Slates to be applied with standard 3" head lap.  The starter slates have chamfered nail holes punched on front side".
North Country Slate has built a reputation for providing affordable top quality roofing slates. Our North American produced roofing slates are durable, environmentally safe, delivered from stock, impervious to moisture, heat, fire and freeze-thaw cycles.
For more information on our slate roofing products, please call our sales office at Toll Free 1-800-975-2835.
Sheena Owen
Sheena Owen began working for North Country Slate on October 12, 1999. Started as the Sales Coordinator and transitioned to a Sales Representative. Daily duties include providing customer service, new business development, inside sales, handling all cross-border customs issues/documentation, arranging shipments, health and safety representation and social media marketing. Sheena graduated from the
University of Guelph
in 1992 with a BA in English and Drama and in 1995 graduated with a Diploma in Radio and Television Broadcasting from
Centennial College
. In her spare time, Sheena enjoys traveling, gardening and hikes with family and friends.