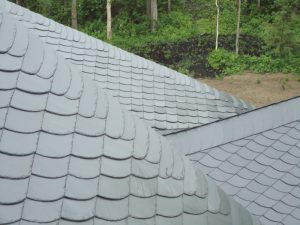 The color of a natural slate is derived from its mineral and chemical composition. Each individual piece is unique with a subtle variation in shade and color. Some slates will weather over time, while others will retain their color.  Slates are available in a wide range of sizes and colors allowing architects, designers, roofing contractors and home owners to create unique slate roof pattern designs.
Slate roof pattern designs, typically involves the use of different colored slates but can also be the use of different shaped pieces of the same color.  Shaped slates can be scalloped, octagonal, hexagon, American cottage with a sharper point, clipped corners, fish scale/beaver tail and diamond point.  Some patterns may include dates, names, floral, stripes, words, Dutch laps and many more options.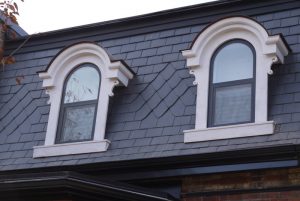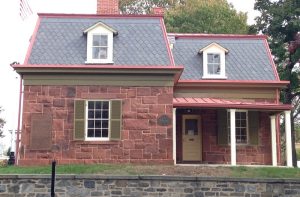 A slate roof pattern design can also be more expensive because of the labour costs which include the trimming of individual pieces and installation. The price will also vary depending on the color in the pattern.  For instance, an unfading red slate is the most expensive because of limited production.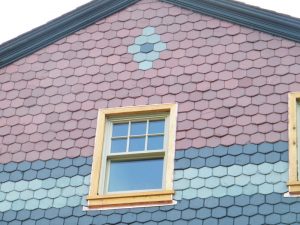 North Country Slate recently supplied slate for a floral pattern on a heritage home in Toronto.  Part of the new Casa III Condominium project included the restoration of 62-64 Charles Street East semi-detached homes. These homes were built in 1885 for original owners Thomas Smith (painter) and Arthur Coleman, the builder. These semis are a classic example of late 19th century Second Empire architecture; two and half stories, brick cladding, stone, detailed wood dormers, glass, extended eaves and a distinctive mansard pattern slate roof.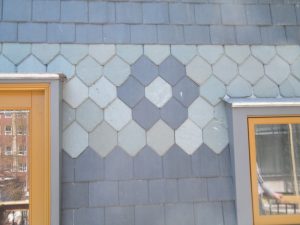 Second Empire style a blend of Italian Renaissance and classical French architecture, was more popular with institutional buildings and emerged in France during the mid-1800s.  In 1870, the Second Empire style was introduced for residential use in Toronto as part of a competition for the Lieutenant-Governor of Ontario's official residence.  A mansard slate roof not only showcases the roofer's skilled workmanship but also provides additional head room in the attic.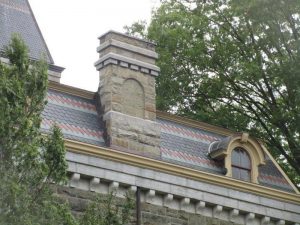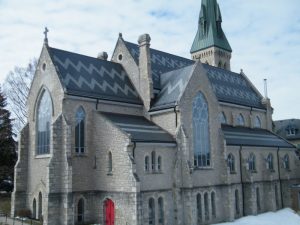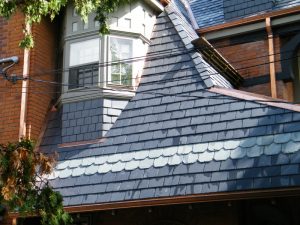 In 1974, the homes were listed as Toronto Heritage Properties and in 2014 designated under Ontario Heritage Act.  Heritage consultants at ERA Architects made sure the properties were restored back to their original glory. Restoration work from late summer of 2015 to late spring of 2017 included tuck-pointing the building which was honoured with a 2017 CAHP Award of Excellence – Materials, Craftsmanship and Construction.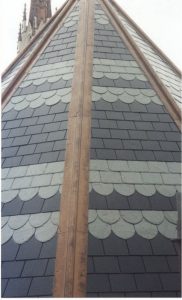 For the slate roof pattern design on these homes, we supplied our North Country Unfading Black (14"L x 8" W x 1/4") with an unfading green pattern. The unfading black slate production goes back to 1910 in the Temiscouata County of southeastern Quebec.  Marketed as La Canadienne/La Quebecoise in Belgium, France, Germany, Holland and Luxembourg.  Known as Glacier in United Kingdom and North Country Unfading Black/Canadian Unfading Black in Canada and United States.  The Unfading Green slate, produced in Vermont, is a blend of green/gray tones. These slates can be used alone, or blended into a multicolored roof or an accent color for a slate roof pattern.
For technical information on slate roof pattern designs, please call our office at Toll Free: 1-800-975-2835.
Sheena Owen
Sheena Owen began working for North Country Slate on October 12, 1999. Started as the Sales Coordinator and transitioned to a Sales Representative. Daily duties include providing customer service, new business development, inside sales, handling all cross-border customs issues/documentation, arranging shipments, health and safety representation and social media marketing. Sheena graduated from the
University of Guelph
in 1992 with a BA in English and Drama and in 1995 graduated with a Diploma in Radio and Television Broadcasting from
Centennial College
. In her spare time, Sheena enjoys traveling, gardening and hikes with family and friends.