Between 2016-2017 we supplied our North Country Unfading Black roofing slate for the re-roof of the former Bank of Upper Canada, De La Salle Institute and Toronto's First Post Office. The Unfading Black slate is quarried by Glendyne Inc in St. Marc Du Lac Long, Quebec, Canada, and has been favorably compared, by industry professionals, to the best natural roofing slates ever produced in North America. It only made sense to replace these mansard slate roofs with Canadian slate roof tiles.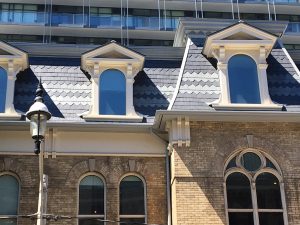 Toronto rich in architectural history is a combination of various styles with older buildings influenced by the city's culture and history.  Most designs adopted from the British Empire like Edwardian, Revival and Victorian. Building materials in Toronto gave access to a wide array of materials. Clay sediments from the former lake bed allowed for cheap brick to be produced and provided by Don Valley Brick Works.  These bricks can be found on thousands of buildings throughout the city. Sandstone quarried from the Credit River was used for Old City Hall and was the main material for Toronto's Annex style house.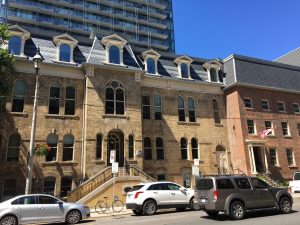 Canadian slate roof tiles reached their greatest popularity in Canada during 1880s.  This was in part due to improved transportation, growth of cities and architectural styles such as Gothic Revival and Second Empire.  In 1847, the Geological Survey of Canada identified areas in Quebec's Eastern Townships suitable for producing roofing slate.  A slate belt on 200m thick horizon of dark grey slate spreading over several kilometres was quarried in Richmond, Drummond and Melbourne, Quebec, Canada. The Walton Slate Quarry and New Rockland Slate Quarry were the principal source producing Canadian slate roof tiles which supplied the needs of the Canadian market until 1900.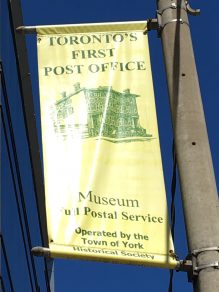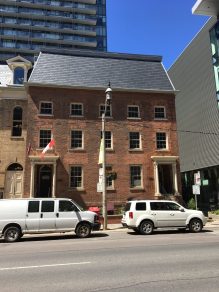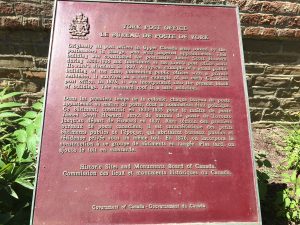 Toronto's First Post Office located at 260 Adelaide Street East was built in 1833-1834.  Georgian style architecture, the three-storey building had two front doors, one for the post office and one for private residences. During this time it was common for postmasters to live in the post office.  In 1876 a fourth-storey and mansard slate roof was added when the De La Salle Institute took over the building. In 2016, we supplied 27 squares of our North Country Unfading Black, 18" x 9" x ¼" for the re-roof.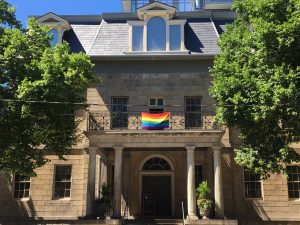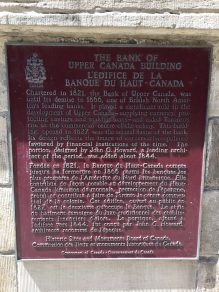 Bank of Upper Canada Building located at 252 Adelaide Street East was built in 1825-1827. It is one of the few buildings that predates Toronto.  An interesting past, during the 1837 rebellion, William Lyon Mackenzie and the Reformers marched down Yonge Street to attack this building with the hopes of stealing the gold stored inside but they were unsuccessful.  It served as a bank until the bank's collapse in 1866. To accommodate the growing needs of the school, the De La Salle Institute purchased the building and added a third floor and a mansard slate roof to tie in with the other adjoining buildings.  The school left the site in 1913 and up until 1971 was used for various commercial uses.  Left abandoned and slated for redevelopment, a fire in 1978 destroyed most of the roof. But by then, the building was listed as an Ontario heritage building in 1975 and declared a National Historic Site. The three properties from 252-264 Adelaide Street East caught the attention of Toronto lawyer, Sheldon J. Godfrey who purchased the properties and restored them in 1982.  In 2017, we supplied 41 squares of our North Country Unfading Black, 18" x 9" x ¼" for the re-roof of the mansard slate roof.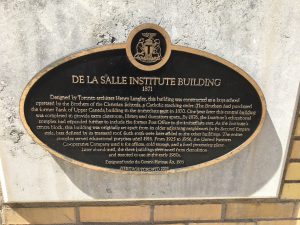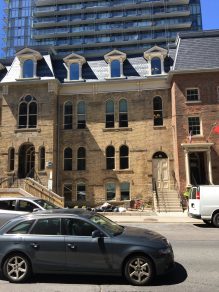 De La Salle College located at 256 Adelaide Street East was built in 1871. The boy's Catholic school purchased the Post Office and Bank of Upper Canada in 1870 and 1876 to accommodate the growing needs of the school.  This building is a classic example of Second Empire with a mansard slate patterned roof in North Country Unfading Black and North County Unfading Grey.
North Country Unfading Black roofing slates were selected by the architect as a match for the original dark grey slate which was supplied from one of the Canadian slate quarries in Quebec's Eastern Townships back in 1800's. Canadian slate roof tiles have certainly proved themselves to be long lasting, durable, resistant to chemical pollutants, fireproof, environmentally safe, resistant to hail and unaffected by Canadian winters.
For more information on our Canadian slate roof tiles, please call our office at Toll Free 1-800-975-2835.
Sheena Owen
Sheena Owen began working for North Country Slate on October 12, 1999. Started as the Sales Coordinator and transitioned to a Sales Representative. Daily duties include providing customer service, new business development, inside sales, handling all cross-border customs issues/documentation, arranging shipments, health and safety representation and social media marketing. Sheena graduated from the
University of Guelph
in 1992 with a BA in English and Drama and in 1995 graduated with a Diploma in Radio and Television Broadcasting from
Centennial College
. In her spare time, Sheena enjoys traveling, gardening and hikes with family and friends.