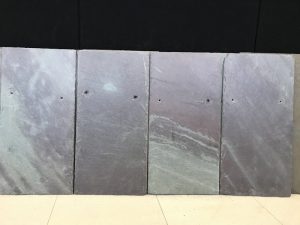 Trying to match a 100 year old slate roof with new slate is never easy. When requested, we send a full range of colors exhibiting weathering characteristics to show roofing contractors, architects and building owners what they can expect to see with these natural slate colors.
North Country Unfading Mottled Purple and Green is a premium quality roofing slate. Picture above, shows the varying shades of burgundy with inclusions of green. No two pieces are the same, which is why this is a popular color choice for a multi-colored slate roof.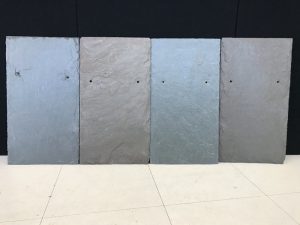 Pictured above, is our North Country Semi-Weathering (Sea) Green which is a premium Gray/Green quality roofing slate. A percentage of these slates will weather over time to tones of buff and brown. These slates are frequently used as the base color for multi-colored slate roofs.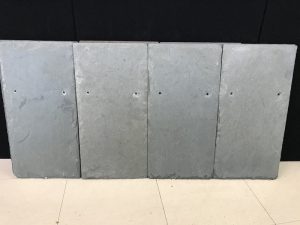 Pictured above is our North Country Unfading Green which is one of the most popular roofing slate tiles. Produced in Vermont, S-1 rated roofing slate, this unfading green slate can be used alone or blended into a multi-colored slate roof. In some cases, it is used to create a slate roof pattern.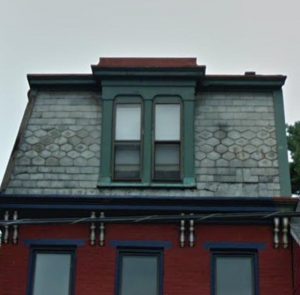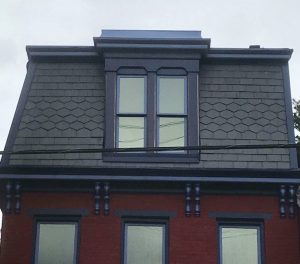 Great example of an old mansard slate roof replaced with our Canadian unfading black  slate roof tiles. We supplied our medium textured slates for this re-roof.  North Country Unfading Black Medium Textured slates exhibit a range in thickness (1/4″ to 3/8″) and textured providing more definition to the appearance of a slate roof.  A medium textured slate's weight will vary from 950 to 1,000 pounds per square. This high quality natural slate roofing material is offered at an economical price and available on a first-come, first-serve basis when in stock.
For help matching an old slate roof, please contact our sales office at Toll Free: 1-800-975-2835.  A CSI 3-part roofing specification is available on our website. Samples are available on request.
Sheena Owen
Sheena Owen began working for North Country Slate on October 12, 1999. Started as the Sales Coordinator and transitioned to a Sales Representative. Daily duties include providing customer service, new business development, inside sales, handling all cross-border customs issues/documentation, arranging shipments, health and safety representation and social media marketing. Sheena graduated from the
University of Guelph
in 1992 with a BA in English and Drama and in 1995 graduated with a Diploma in Radio and Television Broadcasting from
Centennial College
. In her spare time, Sheena enjoys traveling, gardening and hikes with family and friends.