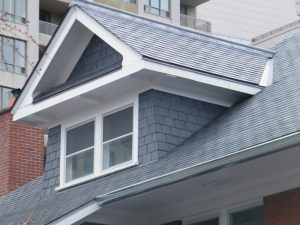 John McKenzie House, built in 1913 for the McKenzie family who moved to the Willowdale area and established a grain and cattle farm on 144 acres. As Toronto started to grow and spread out, John McKenzie saw the opportunity to sell off some of the land creating a subdivision.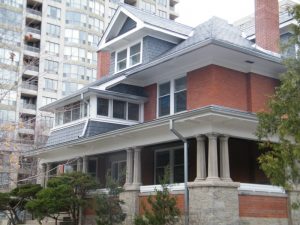 The three storey home has several different architectural styles which include Queen Anne Revival, Arts and Crafts and Edwardian. The home with 12 rooms and 3 bathrooms was used as a private residence up until 1988.  Thanks to the hard work of the Ontario Historical Society for preventing the demolition of the house in 1992. They went on to raise over $1.18 million to restore the house back to its original glory.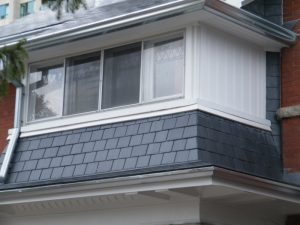 As with any historical restoration, care was taken to preserve and recapture the original features. Over the years, asphalt shingles were installed, but a picture from 1918, showed that the home originally had a slate roof.  Rather than installing another asphalt roof, the decision to replace with a durable slate roof was decided and installed with copper ring shank nails to make sure the new slate roof lasts another 100 years.
We supplied 43 squares of our North Country Unfading Black, 16" x 12" x ¼" back in 2016.
Sheena Owen
Sheena Owen began working for North Country Slate on October 12, 1999. Started as the Sales Coordinator and transitioned to a Sales Representative. Daily duties include providing customer service, new business development, inside sales, handling all cross-border customs issues/documentation, arranging shipments, health and safety representation and social media marketing. Sheena graduated from the
University of Guelph
in 1992 with a BA in English and Drama and in 1995 graduated with a Diploma in Radio and Television Broadcasting from
Centennial College
. In her spare time, Sheena enjoys traveling, gardening and hikes with family and friends.