A natural slate roof has many benefits when installed with non-corroding nails. In 2015, the National Slate Association tested slate for high winds. It passed the ASTM D3161-15 Class (highest) Wind Resistance Rating. Perhaps this is why the slate roof on the Goderich Town Hall survived the 2011 F3 tornado.
On August 21, 2011 the "prettiest town in Canada" as per Queen Elizabeth II was hit with one of Ontario's strongest tornadoes.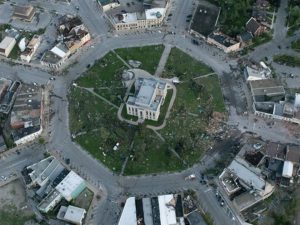 The town of Goderich in Ontario, has a unique octagon layout.  As you can see from the picture above, the tornado tore right thru the centre of town.  The F3 tornado that developed as a waterspout over Lake Huron and ripped off roofs, tossed cars, damaged historical buildings and tore up 100 year old trees in seconds. The town did not have a network of tornado sirens in place and residents were given twelve minute lead time tornado warning.  The tornado reached land at 3:55pm and hit the Sifto salt mine tearing off large sheet metal roofs.  As it passed over the Maitland River, it's path took it downtown Goderich.  The Mayor of Goderich estimated the damage to be approximately $100 million.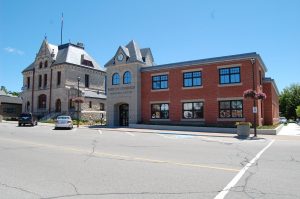 The Town Hall built in 1890 and first served as the post office.  In 1961 it was made into the town hall and in 2009 the red brick portion was added to accommodate the needs of the community.  The tornado's path went up the left side of West Street.  The Town Hall was fortunate to have only lost about 30 pieces of slate.  You can see in the photo below on the right side just above the dormer window the section that had to be replaced.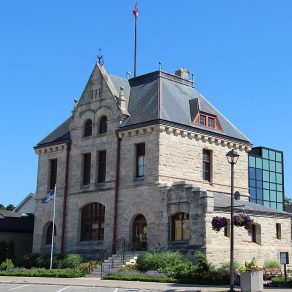 As coincidence would have it, the re-roof of the Town Hall mansard roof in 1997 was  one of our first jobs using the North Country Unfading Black  (20" x 10" x ¼") which was chosen by the architect as it was a perfect match to the original roof from 1890 so we were able to supply the repair slates.  The Goderich Town Hall was designated as a Heritage Ontario property in 1978.
Sheena Owen
Sheena Owen began working for North Country Slate on October 12, 1999. Started as the Sales Coordinator and transitioned to a Sales Representative. Daily duties include providing customer service, new business development, inside sales, handling all cross-border customs issues/documentation, arranging shipments, health and safety representation and social media marketing. Sheena graduated from the
University of Guelph
in 1992 with a BA in English and Drama and in 1995 graduated with a Diploma in Radio and Television Broadcasting from
Centennial College
. In her spare time, Sheena enjoys traveling, gardening and hikes with family and friends.